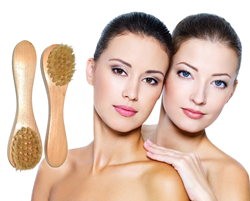 Many have discovered the beauty of brushing the body, and now special brushes are available again for the face.
St. Petersburg, FL (PRWEB) June 13, 2014
The new yet popular Face Brushes are now back in stock at Sublime Beauty®.
"So many have discovered the beauty of dry brushing the body, and we recently introduced Face Brushes as well," says Sublime Beauty® founder, Kathy Heshelow. "Dry brushing energizes the skin, improves tone and circulation, and gently exfoliates."
Two (2) brushes are offered in a pouch along with a downloadable instruction guide at the Sublime Beauty webstore, or at Amazon.
"There are distinct differences between brushing the body and brushing the face," says Heshelow. These differences are outlined in the brochure at purchase and on the Skin Brushing website.
ABOUT: Sublime Beauty® is a quality skincare company that focuses on products to "Age Younger". Products help to boost collagen, hydrate, relax wrinkles and improve skin. A niche includes healthy Skin Brushes. The company webstore offers free standard shipping and a VIP Club. Products also available on Amazon.