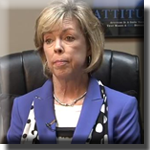 I work with corporate America trying to engage them to workwith our population and showthem what a wonderful laborsource we are.
Rancho Cucamonga, CA (PRWEB) June 26, 2014
Beth Hammond says it is a privilege to train staff members at VIP. As Director of Training, she instructs staff members on how to interface with their clients. All new employees undergo a ten-week class. She also works with companies and corporations that employ VIP's clients, again teaching staff training, diversity training, and marketing. Hammond says, "I work with corporate America trying to engage them to work with our population and show them what a wonderful labor source we are."
Recently, Hammond had the opportunity to travel to Washington, D.C., and attend the annual meeting of Direct Employers Association. "Direct Employers Association is a nonprofit human resource consortium of leading global employers formed to improve labor market efficiency through the sharing of best practices, research, and the development of technology." Hammond says the association is a "wonderful resource" that connects companies with job seekers, as well as partners in diversity such as VIP. For her part at the conference, Hammond participated in a panel to discuss partnerships with the National Organization on Disability whose mission is to "research, develop, and demonstrate creative approaches to disability employment issues."
The panel discussion focused on changes and revisions to the Rehabilitation Act of 1973. As of September 2013, Section 503 of the bill seeks compliance from employers receiving federal dollars to ensure that a minimum of seven percent of its workforce include people with disabilities. What's more, the new regulations require that employers invite applicants to self-identify as individuals with disabilities at both the pre-offer and post-offer phases of the application process, and that employers invite their employees to self-identify every five years. Hammond says in the past people with disabilities were reluctant to disclose their status fearing discrimination. Section 503 now encourages employers to look at their current workforce and see if they are already compliant, and, if not, influences them to seek out the services of companies like VIP in order to gain compliance of the new guidelines.
When asked about the benefits of corporations partnering with VIP, Hammond immediately raised the fact that the new revisions require compliance, and that VIP can assist them in the utilization of meeting those requirements. Hammond underscores her point by adding, "We have a viable workforce that does a wonderful job. They're eager to fulfill any job that they're provided an opportunity to do, and it just makes great business sense."
Hammond also says VIP is blessed with visionary leadership that puts key components in place to assist employers in every facet of working with a diverse population, including training and support. "We're basically a one-stop-shop," Hammond says. "Make the phone call to VIP, partner with us, and sit back and reap the benefits."
---- Sean Reynolds
For More Information
Contact Shirley S. Yamano
shirleyy(at)vipsolutions(dot)com
(909) 483-5924