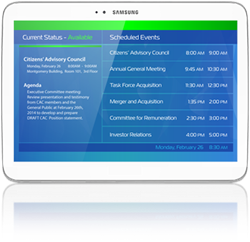 "...offer inexpensive room sign solution to Hospitals, School Systems, and Businesses of all kinds." - Neil Willis
Greenville, Spartanburg (PRWEB) July 18, 2014
Hypersign, the award winning digital signage software, has partnered up with ArmorActive in order to offer customers the absolute best in room sign solution.
Neil Willis, CEO of Hypersign, says, "This partnership allows Hypersign, along with Samsung's Galaxy Pro, to offer inexpensive room sign solution to hospitals, school systems, and Bbusinesses of all kinds."
ArmorActive, a company of Mobile Technologies Inc, is a leader in tablet solutions. Providing only the best in secure hardware and mobile applications.
Hypersign Room is an interactive conference room scheduling application. Using a Galaxy tablet mounted outside a meeting room, it can display the room's upcoming schedule for the day/week. The Galaxy tablet could also be used outside individual hospital room to display basic patient information. If mounted inside the room, it could communicate vital information for nurses. Medical facility information such as cafeteria menu or hospital advertisement's could be shown also.