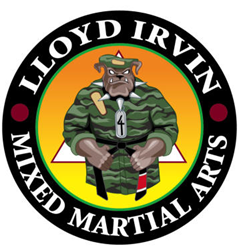 Camp Springs, MD (PRWEB) June 12, 2014
Following the 2014 Brazilian Jiu Jitsu World Championships,Team Lloyd Irvin now has three new Black Belts on the training floor. The Black Belt is among the prestigious ranks in Brazilian Jiu Jitsu, and takes incredible dedication, commitment and hard work to obtain.
Master Lloyd Irvin, head instructor at Lloyd Irvin's Martial Arts Academy in Camp Springs, MD, along with Master Donald Achnick and Master Julius Park promoted the three standout students to Black Belt on June 4, 2014.
Timothy Spriggs was first to receive his promotion to Black Belt. Spriggs, a college graduate and kids Jiu Jitsu instructor, has been training Brazilian Jiu Jitsu for 6 years. He first began training as a teenager when he joined Crazy 88 Academy in Elkridge, MD. Crazy 88 Academy, a Team Lloyd Irvin affiliate, is ran by Master Julius Park. Timothy just won the Male Heavyweight Brown Belt division at the Worlds last month, on his path to Black Belt.
Malcolm Vaughn was next in line for his Black Belt. Malcolm works full time, and still finds the time in his busy schedule to training Brazilian Jiu Jitsu and teach basics classes at Crazy 88. Although Malcolm does not compete in BJJ tournaments, he's been an integral part on the training floor, and has helped many of the competitors, like Tim Spriggs, The Ryan, and Devon Delbrugge train for their respective competitions.
Sijara Eubanks was third in line for Black Belt promotions that evening. Sijara began training in Brazilian Jiu Jitsu under Master Lloyd Irvin at the head academy in Camp Springs, MD in 2008. Last month, at the 2014 World Championships, Sijara placed 1st in her Female Medium Heavy Division. Sijara is among only a handful of American Female Black Belts.
For more information on Team Lloyd Irvin, please visit http://www.lloydirvin.com or call 301-449-KICK, lines are open 24/7.