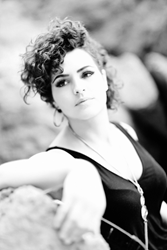 Los Angeles, CA (PRWEB) June 12, 2014
"The time has come to reward the fans", says Yael Benamour, CEO of Your Music Company, a Los Angeles-based record label. Your Music Company is the first- ever, state licensed crowd-funding music business model in the United States revolutionizing the recording industry. This innovative record label collaborates with the artists and music fans to create a business model for the new generation of music lovers and shares the success together! This model is not only for music fans but for entrepreneurs because everyone involved makes money.
This month, Your Music Company's artist Georgia Jane completed her crowd-funding goal with $100,000 raised. Your Music Company is currently working on the promotion of Georgia Jane's first single, "Do The Same For Me", available on iTunes and gaining steady momentum with radio outlets nationwide. The French born triple threat, singer, songwriter, dancer is now in the studio recording for her highly-anticipated debut album titled "GJ".
The Company's platform allows artists and fans from anywhere in the world to create an account. Artists submit their music for consideration to be placed on the website.
Registered fans can interact with and or invest in an artist to become a FANVESTOR and earn money.
As a record label, Your Music Company's experienced team supports the artists to extend their fan base, give them more exposure and develop their artistic career by working very closely together. The heartbeat of the company is its human aspect. Yael Benamour explains, "The success of the artist is the success of the company and FANVESTORS, we are passionate about our artists and eager to discover the unique diamond they are."
Your Music Company is the New Music Business creating entrepreneurs and successful artists worldwide! Visit the website for more information: http://www.yourmusiccompany.com.