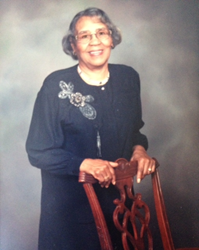 Mrs. Hines was not only a mother to her children, she was a mother to the community, she raised all of us to be successful.
Detroit, Michigan (PRWEB) June 13, 2014
On Friday, June 13, 2014, the Mark Twain Elementary School (formally Boynton Elementary School) will rename its multipurpose center to the Fay F. Hines Multipurpose Center.
Whether it was leading countless fundraisers in support of the school as a PTA member and president, serving as a teacher's assistant, or offering children precious words of encouragement for 30 years as a cafeteria attendant, Mrs. Hines brought invaluable support to the children and teaching staff of Boynton Elementary.
The school's current Principal, Mrs. Linda Whitaker, was not present during the time that Mrs. Hines worked at Boynton Elementary, but when she received the request from Dr. Daniel Hines, a Washington, DC based dentist and son of Fay F. Hines, immediately Mrs. Whitaker understood that this was an opportunity to honor a remarkable woman that had given so much to the school and the community. Mrs. Whitaker gave her full support.
Before Mrs. Hines passed in 2006, she and Walter J. Hines, Sr., now 91, had been married for more than 60 years. "Early in our marriage I would share with my wife the desire I had to raise a large family. I felt the world needed good men and women who could benefit society," said Mr. Hines. "She gave me 12 boys and two girls and never complained. This is a deserving honor."
Each of Mrs. Hines 14 children attended Boynton Elementary and all 12 living children will be in Detroit for the dedication ceremony, seven of which now live outside of the state of Michigan.
"What mom showed us all was how one person can make a powerful difference in this world just by being committed to doing their part in life," said Daniel Hines.
Retired Executive Lieutenant, and now Candidate for Michigan State Representative, Tyrone Carter said of the dedication, "This is a wonderful and appropriate tribute to the legacy of Mrs. Hines." Carter, who also grew up in the same community and is a longtime friend of the Hines family added, "Mrs. Hines was not only a mother to her children, she was a mother to the community, she raised all of us to be successful."
Fay F. Hines left a legacy of accomplishments. Giving birth to, and along with her loving husband Walter J. Hines, Sr., successfully raising 12 sons and two daughters, who in turn, gave her 40 grandchildren and 26 great-grandchildren, was an achievement this native New Hope, North Carolinian was exceptionally proud of.
For more information about the Fay F. Hines Dedication Ceremony on Friday, June 13, 2014 at 3:00 p.m., 12800 Visger Street, Detroit, MI, please contact Daniel Hines at (202) 258-6401.
Press release published by:
Marcus Hines (301) 785-8428
for Fay F. Hines Dedication Ceremony