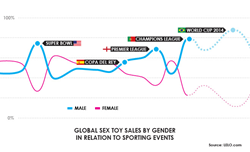 In the days before a big match, men are visiting the site less than usual but buying twice as much.
San Jose, CA/ Stockholm/London (PRWEB) June 12, 2014
With the Brazil World Cup only days away, luxury sex toy brand LELO has released data from its website, LELO.com, that shows men are responsible for 72% of total sex toy sales in the run up to major sporting events.
This massive increase, compared to the typical 50/50 gender split between transactions on a typical day, begins in the week prior to a big match and has been observed during the build-up to the Champions League, the Super Bowl, the Tour de France and many other key events.
LELO has dubbed this shift in sales trends as the "Brownie Sports Points" phenomenon; where men buy premium sexy gifts in anticipation of not spending the usual amount of time with their partners.
LELO reports global sales are already soaring ahead of the World Cup kick-off next week and are expected to continue to rise over the month long event.

Men usually account for 48-52% of global sales at LELO.com, but this spikes to a global average of 72% in the week before big football matches or major sporting events.
Sales of female-centric toys, such as the SORAYA 'rabbit-style' vibrator ($199) and GIGI 2 ($119) rise by around 60% in that period.
Four out of every five sex toys sold will be bought by men in the week before the World Cup's opening ceremony.
This graph below charts the global trend of male versus female sex toy transactions at LELO.com. Major sporting events, from the Super Bowl in America to the Champions League Final in Europe all directly influence male sex toy buying patterns. The trend is beginning particularly early for the World Cup.
LELO claims this trend of gifting is consistent in all international markets and has advised its 20,000 retailers to stock up on LELO in anticipation of a surge in sales prior to the World Cup kicking off on June 12th. The company argues LELO's luxury pleasure objects enjoy such success because they are not only intensely desirable for women, but appear unthreatening to the man, and can be used alone or as a couple long after the event is over.
LELO Global Marketing Manager Steve Thomson says: "In the days before a big match, men are visiting the site less than usual but buying twice as much, and we know it's not for themselves. Ordinarily when men purchase LELO products, it's almost always couples' massagers they can share with their partners. But in the run up to big sporting events, we see huge spikes in sales of our SORAYA and GIGI 2 products – which are more generally used for solo play.
"Going into the World Cup in Brazil we're making sure our retailers are aware of this trend so as to brace themselves for a sudden influx of men looking for gifts before kickoff," Thomson added.
For more information, visit LELO.COM/WORLDCUP.
Note to Editors: All media inquiries can be directed to pr(at)lelo(dot)com.
LELO is the world's leading designer brand for intimate lifestyle products. On launching in 2003, LELO transformed the look, feel and function of how personal massagers were perceived, and now applies the same commitment to quality and innovation through bedroom accessories, soy massage candles and a premium line of silk intimate apparel. LELOi AB is the Swedish company behind LELO, where offices extend from Stockholm to San Jose, from Sydney to Shanghai.