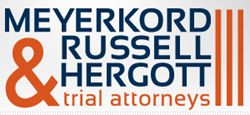 Kansas City, MO (PRWEB) June 11, 2014
Recently, Matthew Meyerkord of the Kansas City law firm of Meyerkord, Russell & Hergott, was admitted to membership in the Multi-Million Dollar Advocates Forum®. The firm has gained prominence in the Kansas City area for their exceptional results in a range of personal injury cases, and Mr. Meyerkord is very pleased to become member of this group, which is made up of the leaders in the field of personal injury law.
There are only a small percentage of personal injury lawyers in the nation who meet the standards for membership in the Multi-Million Dollar Advocates Forum®. Forum membership is restricted to attorneys that meet several strict criteria for admission. One of the requirements to become eligible is that the attorney must have served as principal counsel in a case in which a settlement or jury award has been achieved for $2,000,000 million dollars or more.
Mr. Meyerkord has made a name for himself since the establishment of his practice, and his personal dedication to those he serves is the driving force behind his many successes in injury claims and lawsuits. He has been the recipient of many different accolades during his years in practice, including being picked as "2011 Best of the Bar" by the Kansas City Journal, and included in the list of Super Lawyers® for 2013. He was selected as the Revitalization Governor representing the Missouri Association of Trial Attorneys on the Board of the American Association for Justice. He has garnered a reputation as a top quality personal injury trial lawyer.
The firm is recognized as a leader in personal injury trial law, and has consistently achieved outstanding case results in serious injury cases. You can find out more about the firm on their website at http://www.kansascityinjuryfirm.com/.