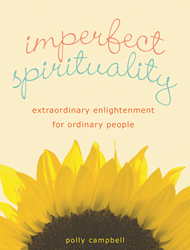 "Realistic, inspired, the answers lie within these pages."—Retailing Insight
(PRWEB) June 12, 2014
Polly Campbell was recently wrote an article for Spirituality & Health, "Don't Choke," in which she discussed the causes of stress under pressure and easy ways to short-circuit the automatic "choke" response most people have.
Campbell begins, "Whether fumbling a crucial job interview, blanking on a final exam, or forgetting the pose you were about to teach to a roomful of yoga students, we have all choked under pressure. Even cooking dinner for the in-laws can make the heart race and prompt that prickly sense that everyone is watching." She lists easy ways to distract the brain from panicking be doing things like meditation, napping, or just getting the body to move.
POLLY CAMPBELL is a writer and speaker who specializes in personal development and spiritual topics. A blogger at ImperfectSpirituality.com and PsychologyToday.com, she teaches on the Daily Om as well. For more than two decades, Polly has studied and applied the techniques she writes and speaks about to her own life.
In Imperfect Spirituality, Campbell shows readers how to integrate everyday moments with traditional spiritual techniques to increase personal growth and well-being. Imperfect Spirituality is filled with practical tips and dozens of examples that will encourage readers to amp up their optimism, let go of worry, and embrace their authentic selves to offer their true gifts to the world. Imperfect Spirituality is also available as an audiobook.