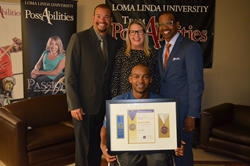 "By earning this award, you have proven yourself to be a Presidential Champion."-- President Barack Obama
Loma Linda, Calif. (PRWEB) June 12, 2014
President Barack Obama has recognized Loma Linda University Health's PossAbilities program as a Presidential Champion for its work in getting people with physical disabilities to be active and fit.
The White House sent the recognition to PossAbilities with a Gold Award and a certificate that states, "In recognition of your outstanding commitment to adopt and maintain a physically active and fit lifestyle. By earning this award you have proven yourself to be a Presidential Champion. I hereby congratulate you on this accomplishment."
PossAbilities is a community outreach program developed by Loma Linda University Center East Campus and supported by founding partner, the San Manuel Band of Mission Indians. PossAbilities' goal is to offer physically challenged people who were born with or have suffered permanent physical injury a sense of community by offering activities and practical help.
The program offers a variety of activities and initiatives that offer support, education, and athletic endeavors to its members, including hosting the yearly PossAbilities Triathlon, an event joined in by thousands of able-bodied and challenged athletes; and Road to Rio, a training program for athletes hoping to compete at the 2016 Paralympics.
The Presidential Champion award is part of The President's Challenge, a program of the President's Council on Physical Fitness, Sports, and Nutrition, U.S. Department of Health and Human Services. The program recognizes efforts to help people of all ages and abilities to increase their physical activity and improve their fitness through research-based information, easy-to-use tools, and friendly motivations.
"We are deeply humbled to have received this recognition from the President of the United States. It is our hope that the PossAbilities program will continue to provide those with physical disabilities the opportunities to adopt and maintain a healthy lifestyle," said Pedro R. Payne, Ph.D., director of PossAbilities.
"Whether it's through our weekly exercise classes, our monthly bike rides, or our annual triathlon, we can think of no better way to help spread our health message other than to 'Live It'," he said.
Photo Caption: President Barack Obama recently honored Loma Linda University Health PossAbilities with a Presidential Champion Gold Award in recognition of the program's work to get people with physical disabilities to be active and fit. In the photo (clockwise from left): Pedro R. Payne, director of PossAbilities; Cotie Williams, program coordinator, PossAbilities; Lyndon Edwards, administrator, Loma Linda University Medical Center East Campus; and PossAbilities member Delmon Dunston.
###
About Loma Linda University Health (LLUH)
Loma Linda University Health includes Loma Linda University's eight professional schools, Loma Linda University Medical Center's six hospitals and more than 800 faculty physicians located in the Inland Empire of Southern California. Established in 1905, LLUH is a global leader in education, research and clinical care. It offers over 100 academic programs and provides quality health care to 40,000 inpatients and 1.5 million outpatients each year. A Seventh-day Adventist organization, LLUH is a faith-based health system with a mission "to continue the teaching and healing ministry of Jesus Christ."