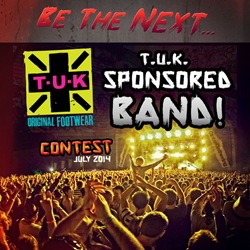 (PRWEB) June 12, 2014
T.U.K. Footwear, the brand known for supporting indie and alternative bands & artists are looking for their next addition to their roster. All bands have to do is post a picture to T.U.K.'s Facebook wall then get their fans and friends to like & share it. The band with the most like & shares at the end of June will become T.U.K.'s new sponsored band.
Contest ends June 30th and the winner will be announced July 1st. Winning group will receive 2 shoes per member plus bags, stickers and bragging rights. More details here: http://bit.ly/vc-tuk-band.
About T.U.K. Footwear:
Since their start in 1991, the San Diego, CA based footwear company T.U.K. has been creating bold, original footwear for men and women. Footwear made for and inspired by bands, music fanatics, fashionistas, and individuals with eclectic tastes. With their huge range from traditional classics to modern upstarts they are constantly providing creative style with an original edge.
For more information, please visit http://www.tukshoes.com.