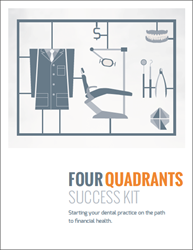 Indianapolis, IN (PRWEB) June 12, 2014
Per the ADA, a mere four percent of dentists will be in a position to retire by age 65 – mostly due to poor savings and tax planning. In fact, dentists are only saving, on average, $23,000 a year.
As dental care use drops among working adults and insurance policies change, dentists must be proactive with a sound financial strategy to keep their practice running smoothly.
While dentists aren't expected to have an MBA, they are still owning and operating a business. Whether or not they are prepared for this plays a crucial role in financial success.
Four Quadrants Advisory, a leading dental financial planning firm, has created a success kit for dentists to assess the financial health of their dental practice by identifying major pain points and underlying symptoms.
In the success kit, Jason Smith, president, CEO and founder of Four Quadrants, drills home the major pain points for today's dentists including poor cash flow management and inconsistent tax planning. Smith also helps dentists recognize potential financial problems by asking:

Is your cash flow fluctuating wildly month-to-month?
Have you had a tax surprise of $5,000 or more recently?
Are you spending more time managing the practice than being a dentist?
If you answered yes to any of these questions, it is important to seek financial guidance before it's too late.
To receive a free copy of the success kit visit: http://info.fourquadrantsadvisory.com/success-kit
About Four Quadrants Advisory
Four Quadrants is dental financial planning firm providing tailored and specific profit-increasing techniques for the nation's most successful dentists. Our four-part process takes successful dentists and puts them on the path to become multi-millionaires. Dentists working with Four Quadrants save on average $100,000 a year – the top one percent in the nation for dentistry. The Four Quadrants Promise: Increase your retirement savings by 50 percent and reduce your overhead by five percent within one year – or you don't pay us. Visit us at fourquadrantsadvisory.com.