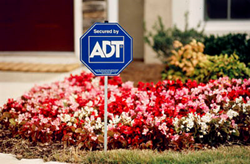 Using ADT Signs and Stickers you can reduce the likelihood of a break in by as much as 50%.
(PRWEB) June 12, 2014
Can a Home Security Sign Really Stop a Burglary?
Burglars look for opportunities that offer the lowest risk of getting caught. That's why unlocked doors and concealed entry points are attractive. When a prowler sees an ADT home security sign front and center, they immediately recognize the threat of exposure, and that by itself is a big enough deterrent for most criminals.
Trim It
Maintaining the landscaping around your home, particularly your doors and windows, is a good way to provide security. When you keep your bushes trimmed, this leaves less hiding places for any potential intruders.
Also, keeping the bushes and trees trimmed around your windows allows you to look outside and have a full view in case you become worried about someone trying to enter your yard.
Light It
Motion-activated lights are a great way to light up your home and your yard. Light is very uninviting for anyone that should not be there. You can find many different security lights with motion sensors for reasonable prices. If installing a new light isn't possible, you can generally replace any exterior bulbs with motion sensor security lights.
Lock it
Many times, thieves don't really even break into a house, they simply take advantage of a door or window that is left open or unlocked. Make sure your windows and doors are always locked. If the locks aren't secure enough, you can invest in more secure door and window locks for added security and peace of mind.
Fake It
It has been proven repeatedly that simply placing an alarm sign cuts down on home invasions. While an alarm system can be costly, a sign or sticker can be more budget friendly and quite effective. To get yours, follow the link below.
http://www.securitysignsolutions.com/home-security-shop/