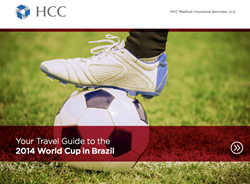 When travel emergencies happen, being prepared is the best defense.
(PRWEB) June 12, 2014
It's roughly 4,000 miles from Washington, DC to Sao Paolo, Brazil.
This month, almost 200,000 Americans are expected to make that trip as more than 2 million people converge on Brazil for the FIFA World Cup.
From hazardous travel conditions between the dispersed host cities, to worries of mounting local tension, the road to the World Cup is paved with safety concerns that are leaving fans unsure about this trip of a lifetime.
HCC Medical Insurance Services specializes in offering peace of mind for international travelers. Their new e-book, "Your Travel Guide to the 2014 World Cup in Brazil," offers guidance every traveler must know, from how to navigate Brazil's transportation infrastructure to whether to trust the tap water.
The guide is HCC's way of empowering travelers to safely enjoy their time abroad.
"As a leader in international travel insurance, we understand the challenges fans will face when heading abroad," said, Andrew Bard, vice president of sales for HCC Medical. "When travel emergencies happen, being prepared is the best defense."
While the guide focuses on improving every part of the World Cup traveler's plans, Bard points out that securing travel insurance should be the top priority on every fan's list.
"Many international travelers aren't aware their domestic medical insurance might not cover them overseas, or might only provide partial coverage," Bard said. "Travel insurance gives them the peace of mind they need to enjoy their vacation in peace."
For a free copy of "Your Travel Guide for the 2014 World Cup in Brazil," visit: http://info.hccmis.com/travel-guide-to-2014-brazil-world-cup.
About HCC Medical Insurance Services
HCC Medical Insurance Services, LLC (HCCMIS) is a full service organization offering a comprehensive portfolio of international group health, domestic short term and travel medical insurance products designed to address the insurance needs of travelers worldwide. It is a division of HCC Insurance Holdings, Inc., a leading international specialty insurance group dedicated to helping businesses and individuals take on opportunities with confidence.
###