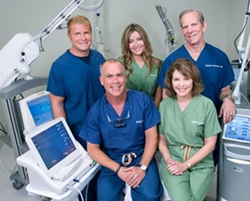 San Diego, CA (PRWEB) June 12, 2014
The board-certified dermatologists of Cosmetic Laser Dermatology in San Diego are proud to announce the launch of their new website http://www.CLDerm.com. With a fresh and user-friendly design, the new website allows patients to easily navigate the latest information on the most advanced cosmetic treatments available.
"Our revamped website is more accessible and informative than before, giving patients increased opportunities to discover the new and exciting treatments available to them," stated Dr. Mitchel Goldman, Medical Director of Cosmetic Laser Dermatology.
The new website includes newly added content that targets specific aging concerns. Patients from their twenties to their sixties can now easily find more information about the best treatments for the most common skin problems affecting their age group.
"The new features on the website are meant to be useful online resources for patients who are looking for safe and effective ways to alleviate their skin problems and rejuvenate their appearance," said Dr. Goldman.
Always on the forefront of technology, the expert dermatologists at Cosmetic Laser Dermatology also feature the latest in innovative cosmetic treatments on their new website. Patients who visit CLDerm.com will have access to information on treatments like ThermiLift, the latest in non-invasive body sculpting, and Voluma, the long-lasting filler that restores lost facial volume.
"At Cosmetic Laser Dermatology, we want to provide our patients with all the information necessary to make informed decisions about undergoing cosmetic treatments. With this new website, we encourage patients to learn more about the exciting ways that we can help correct skin imperfections and restore a more youthful appearance," explained Dr. Goldman.
Cosmetic Laser Dermatology is a world-renowned aesthetic center in San Diego, California made up of five internationally distinguished skin care experts, including Mitchel P. Goldman, MD, Kimberly Butterwick, MD, Richard Fitzpatrick, MD, William Groff, DO, and Sabrina Fabi, MD. As highly acclaimed dermatologists and cosmetic surgeons who have contributed hundreds of medical papers to journals and medical textbooks as well as pioneered multiple key procedures, the services provided are among the most technologically advanced to date. With more than 38 different lasers, the award winning San Diego dermatologists of Cosmetic Laser Dermatology are able to provide patients with the most comprehensive selection of skincare treatments in the United States.