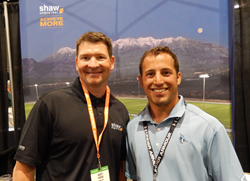 We've been happy with Shaw Sports Turf since 2005. Ultimately, we felt the Shaw Sports Turf product helps us continue our commitment to success.
Baltimore, Maryland (PRWEB) June 12, 2014
Johns Hopkins University's Homewood Field, long known as "The Yankee Stadium of Lacrosse", is getting a new Shaw Sports Turf field.
Last week, crews began removing the old turf surface to make way for a new Shaw Sports Turf Momentum 51 playing surface. Homewood Field previously featured a Momentum 51 surface, which was installed in 2005.
"There are a lot of eyes on this project and it's created a lot of excitement," said Jon Gregory, Assistant Athletic Director for Facilities at Johns Hopkins. "We are in a very visible part of the city and Homewood Field is as much a part of the Baltimore community as it is the Johns Hopkins Community."
Homewood Field has had a presence in Baltimore for 108 years and has become a focal point for lacrosse, a sport for which Baltimore and the state of Maryland are well known.
Johns Hopkins features a multi-divisional collegiate athletics program. The school participates at the Division III level in football, soccer and field hockey, which will utilize the new field. The men's and women's lacrosse teams play at the Division I level.
Because of the success of Johns Hopkins teams, the school regularly hosts NCAA championship events at the stadium, which seats 8,000.
In addition to these sports, the field will also see recreational/intramural use. It will also host practices for the US Men's National Lacrosse Team and will be the site for numerous camps and competitions.
As a testament to the influence of Johns Hopkins and Homewood Field on the sport of lacrosse, the Lacrosse Museum and National Hall of Fame is located adjacent to the stadium.
"JHU is a model institution for the partnership between academia and athletics," said Gregory. "Here, we have a student-first mentality. Our student-athletes are part of a world-class academic program, so the community realized that to be the best on the field of play, it's important to make the commitment to our athletic facilities. We will have that with Shaw Sports Turf."
"We've been happy with Shaw Sports Turf since 2005," said Gregory. "Ron Towle and the Shaw Sports Turf team have always put service first. They also have a strong history in Baltimore. Ultimately, we felt the Shaw Sports Turf product helps us continue our commitment to success."
The Momentum 51 system mirrors the look and feel of natural grass and is known for its durability and overall performance. With a 2.5-inch pile height and a two-inch infill that is a 50-50 mix of sand and rubber, the Momentum 51 system offers the best combination of firmness, speed and safety. The Baltimore Ravens also play on a Momentum 51 system at M&T Bank Stadium and practice on the surface at their indoor practice facility.
"Johns Hopkins has done a remarkable job at providing an elite education with successful sports programs," said Ron Towle, Territory Manager with Shaw Sports Turf. "We're honored that they selected us again to provide them with the best playing surface for their teams."
The installation process takes several weeks and will utilize a variety of materials. For the Homewood Field project, installers will use:
39,900 lbs. of fiber
355,000 lbs. of sand
355,000 lbs. of rubber
140 gallons of glue
147,420 feet of thread
40 rolls of turf
The field has a projected completion date of June 20. Immediately upon completion, the facility will host practices for the US Men's National Lacrosse Team, elite-level high school lacrosse showcase camps, and camps for soccer and field hockey.
The Blue Jay football team, recently ranked 8th in Division III preseason polls, will open its season at Homewood Field on Saturday, September 6, when they take on Randolph-Macon.
About Shaw Sports Turf
A wholly-owned subsidiary of Berkshire Hathaway Inc., Shaw Industries is a full flooring provider to the residential and commercial markets. Shaw supplies carpet, hardwood, laminate, resilient, and tile/ stone flooring products, as well as synthetic turf. Shaw Sports Turf is one of the leading synthetic turf companies in North America and has represented quality and innovation for more than two decades with over 1,500 successful installations, including an impressive list of high-profile field installations. For more information please visit http://www.shawsportsturf.com, call 866-703-4004 or find us on Facebook.