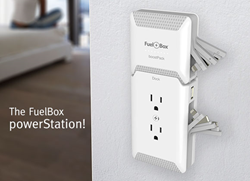 "The powerStation solves a constant problem by providing consumers what they need, a product that offers universal power both at home and on-the-go!"
Santa Barbara, CA (PRWEB) June 12, 2014
FuelBox, Inc. announces the launch of its first product, the PowerStation™, a uniquely designed universal mobile device charger and integrated portable battery pack that serves the needs of the 200 million+ users of the rapidly growing smartphone and tablet computer market.
With a home-based 'Dock' plus the boostPack™ portable battery, the powerStation provides the power to fuel mobile devices both at home and on-the-go. Regardless of what type of mobile device, the powerStation provides power with its universally compatible connectors. The unique design uses flexi-arm connectors that are mess-proof and impossible to lose because they're attached directly to the powerStation.
The ultra-sleek, eye-catching compact design means no more lost cords, no more overloaded outlets, no more losing touch as your phone loses power.
FuelBox® is a company that cares about the planet as much as keeping users connected. The team has gone to great lengths to ensure that the powerStation is ethically produced and packaged. The powerStation comes in a recycled cardboard box that is also compostable, and all packaging is minimized and ethically sourced.
To fund the first production cycle, a crowdfunding campaign was launched on May 31st on Indiegogo.com. Please help support FuelBox by making a crowdfunding contribution here: http://bit.ly/1hsmrKe
About the FuelBox powerStation:
The FuelBox powerStation is the first integrated mobile device charger on the market to offer universal power access both at home and on-the-go. The simple and sleek docking base stays at home plugged into the wall so users never lose their chargers – and never need to buy another one. It also has 110v power outlets, so you don't lose those either.
The powerStation has easy-to-use universal adapters that can charge a variety of mobile devices on the market. The adapters are attached to the base unit (Dock) – so no more cords to lose. The dock's sleek and modern design fits well with any room décor, has a phone/iPad resting base and comes in three stylish colors: moonrock white, astro gray and carbonite black.
The powerStation also offers a small, lightweight yet powerful portable battery pack, the boostPack. It offers 25+ hours of power in a small, streamlined unit that magnetically attaches to the dock.
About FuelBox Inc:
Headquartered in beautiful Santa Barbara, California, FuelBox, Inc. is a technology start-up committed to providing better, life-friendly charging solutions for mobile device users. In late 2011, FuelBox started as an innovative idea that incubated for many months at the Scheinfeld Center for Entrepreneurship & Innovation at Santa Barbara City College. FuelBox founders Robert Herr and Dan Friedman have invested countless hours of research and development in their quest to develop an innovative and uniquely designed universal charging solution for mobile devices users.
Global headquarters:
FuelBox, Inc.
116 E Yanonali Street, suite F-1
Santa Barbara, CA 93101
Press contact:
info(at)myfuelbox(dot)com
818-665-6178