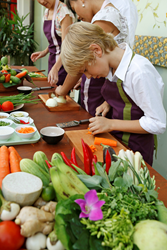 Our culinary experiences and itineraries give travellers the chance to try dishes they would never encounter back home
New York, NY (PRWEB) June 12, 2014
Remote Lands, the world's leading ultra-luxe Asia travel designer, has served up a treat for travelling gourmets with its new range of Asian culinary tours and experiences.
The company, which has offices in New York, Bangkok and New Delhi, has called upon its years of experience in organizing luxury bespoke trips to 27 Asian countries, as well as its network of local food experts, restaurants, chefs and writers, to put together a selection of specialist food itineraries and experiences guaranteed to appeal to wandering foodies.
Remote Lands' culinary offerings include a 14-day food tour of Vietnam; an 8-day South Korea itinerary focusing on Korean food, drink and nightlife; and private cooking classes across Asia from sushi making in Toyko to nasi goreng preparation in Bali. The company has also compiled an exhaustive list of the foremost restaurants in various key destinations, from hidden street food gems in Siem Reap to Michelin-starred fine dining establishments in Hong Kong. Travellers can mix and match experiences and restaurants to create their own tailor-made food itineraries.
"Asian cuisine is globally renowned for its spices and rich flavor" says Catherine Heald, Remote Lands' co-founder and CEO. "It varies massively from Japan to Tibet to Sri Lanka, and even within each country there are many local specialties. Our culinary experiences and itineraries give travellers the chance to try dishes they would never encounter back home, as well as showing them how to cook various Asian dishes, introducing them to local food experts, and taking them to restaurants that many tourists miss."
Food lovers can find out more about the company's range of luxury Asia food tours by visiting the Remote Lands website, or by contacting the company on info(at)remotelands(dot)com.