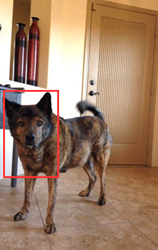 Fountain Hills, AZ (PRWEB) June 12, 2014
PetGadgets.com is excited to announce the national launch of The Pet Doorbell App, the first app that allows pet owners to know when Fido needs to go outside. The app detects the movement of pets via any iPhone® camera, alerting the pet parent via sound that the pet needs to go outside. Best of all, no training is required which is a win/win for pets and their owners. Captured photos can be saved to the camera and shared via popular social networking sites through the App. There is also a push notification option as well that allows pet owners to instantly see the captured photo through a remote Wi-Fi connected iOS device or cellular service. The App is compatible for iOS devices 7.0 or later, and cellular service is required to send and receive phone calls. The cost of the Pet Doorbell App is $1.99.
Simple to use, start the app by clicking "Start Motion Detection." Make sure to set the iPhone (vertical or horizontal) on a stable surface and aim it at the area needed to monitor. Position the slider bar's button to the left for low sensitivity or to the right for high sensitivity. The higher sensitivity is likely to pick up the slightest movement and the lowest sensitivity takes longer to detect movement. About five seconds after clicking on "Start Motion Detection", the app arms itself and is ready to detect motion. To manually disarm, click the "Off Alarm" or "Back" button shown on the screen. The Pet Doorbell App may ask for permission to access photos or save to camera roll.
The App can also be used for the following applications:

Post-surgical recovery for a pet
Alerts letting you know your pet is in an area of your home that is harmful
Off-limit furniture alerts
"Knowing when a pet has to go outside is one of the biggest issues pet owners face," says Geoff Mott, founder, PetGadgets.com. "The Pet Doorbell App allows more freedom for the pet owner and at the same time makes sure a pet's needs are attended to in a timely manner."
For more information, visit: http://www.petdoorbellapp.com.
About PetGadgets.com
Founded by Geoff Mott in 2004, PetGadgets.com provides pet lovers with unique, innovative and high tech pet products that make life more enjoyable for people and their pets. As one of the largest online retailers of pet products in the United States, PetGadgets.com strives to better the lives of pet owners and their family members who have paws, claws, fins, scales, hooves, or wings. For more information, visit: http://www.petgadgets.com.
Contact Information:
Geoff Mott
gmott(at)petgadgets(dot)com
Media Contact:
Amanda Leesburg
Leesburg PR
404-687-0400
amanda(at)leesburgpr(dot)com