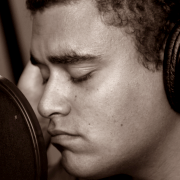 We have been working diligently in the studio to make sure I deliver something that really reflects who I am as an artist.
Los Angeles, CA (PRWEB) June 12, 2014
Chris Rudd, the musical marvel who has practiced music since childhood, is pouring his years of hard work and new-found inspiration into his upcoming album, which he is currently in the studio recording. His new album is a follow up to "Sleepy Eyes", which he released in 2009. The exact release date of his forthcoming new album, which will feature his new singles "Wreck Me Twice" and "Out the Light", will be announced later.
"This is the album I've been really waiting for a long time to do and I expect it to be one of my best collaborations to date," said Rudd. "We have been working diligently in the studio to make sure I deliver something that really reflects who I am as an artist."
Rudd's upcoming singles were engineered, mixed and mastered by Grammy winning mixer Tom Weir. Other contributors include Matt Laug on drums, who has worked with Slash from Guns N Roses and was also a studio musician on Alanis Morissette's album "Jagged Little Pill". Bass was performed by Lance Morrison, who was also a bassist on "Jagged Little Pill". Guitar was performed by Tim Pierce, who has played with Rick Springfield, Bon Jovi, Santana, Alanis Morissette, Rod Stewart and more.
Rudd's music combines a distinct blend of Rock, Blues and Retro Pop that gives a vintage feel, but with his own modern approach. Rudd is currently performing at various venues and he most recently performed on Memorial Day weekend at the 30th Annual South Bay Roundup in Torrance. In January, Rudd released a music video for his single "Dance by Herself". The video, which can be viewed at http://www.youtube.com/watch?v=PMWLBopuHzc, has received more than 160,000 views since it was uploaded.
Rudd, who is hearing impaired, is 60 percent deaf in both ears, but displayed an exceptional understanding of music composition at a young age. Throughout his life, Rudd has learned to channel energy from negative experiences into inspiration as an artist. He currently owns and operates Advanced House Sober Living in Venice Beach. As a testament to his commitment to sober living, Rudd also completed Alcohol and Drug Counseling coursework at Loyola Marymount University. Clean living is a personal commitment that Rudd holds dear to him and provides a great level of strength and guidance in his everyday life.
"I'm excited about the music we are creating right now because it's really going to be something original that is also personal and energetic – something that people can relate to. I think my fans are going to be surprised," he said.
For more music by Chris Rudd, visit http://itunes.apple.com/us/artist/chris-rudd/id310544974. For more information about Advanced House Sober Living, visit http://www.advancedhousesoberliving.com.
For Media Inquiries, Interviews, or Performances, please contact Yvette Morales at YM & Associates at YMoralesY@YM-PR.com.
Yvette Morales
YM & Associates
PR | Marketing | Branding
California | New York
Phone: 949.244.9769 | 310.499.0906 Fax
Email: YMoralesY(at)YM-PR(dot)com
Twitter:@YMTheBevHillsPR
http://www.YM-PR.com