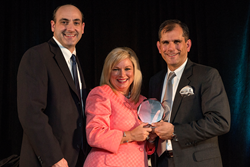 From IAM and eDiscovery to executives breaking the mold for public/private partnerships, many innovative projects and dynamic leaders comprise our stellar group of 2014 ISE® Central Nominees. - T.E.N. CEO and President, Marci McCarthy
Atlanta, GA (PRWEB) June 12, 2014
T.E.N., a technology and information security executive networking and relationship-marketing firm, honored finalists and winners Wednesday evening at the 2014 ISE® Central Executive Forum and Awards Gala at the Sheraton Dallas Hotel in Dallas.
Brian Engle, chief information security officer for the State of Texas, was selected as the Information Security Executive® of the Year Award winner for the ISE® Central Region. Engle advises the executive leadership of nearly 200 independent agency and higher education organizations on protecting state government information resources, and he oversees statewide cyber security strategy and the enterprise security program, operations, and services. Brian also serves as the Texas Cybersecurity Coordinator. His leadership style includes leading by example by refusing to be outworked by anyone, communicating openly and constantly, and creating collaborative environments with consensus approaches that involve a high degree of personal ownership and buy-in.
Shawn Irving, senior manager of information security services, and Scott Pettigrew, chief security officer for HMS, were also honored during the event as finalists in the executive category. Jason Witty, chief information security officer for US Bancorp, was named the 2014 ISE® Central People's Choice Award Winner. This award represents the nominee who best exemplifies information security leadership as voted on by his peers in information security.
USAA's "Next Generation Identity and Access Management" project was selected as the ISE® Central Project of the Year. Mark Chamberlain, executive director of information security operations, accepted on behalf of the project, which was comprised of more than 30 complex interdependent projects aimed at efficiently enabling USAA's business while creating a world-class, secure access management capability that meets the needs of USAA's dynamic and growing business.
CNA's project, "Enterprise Risk Register – Enterprise Adoption," and Principal Financial's project, "IT Risk Management Framework," were selected as finalists for the ISE® Central Project of the Year Award.
"From IAM and eDiscovery to executives breaking the mold for public/private partnerships, many innovative projects and dynamic leaders comprise our stellar group of 2014 ISE® Central Nominees," said T.E.N. CEO and President, Marci McCarthy. "Each has made a significant, positive impact for their organization's security posture, and we are honored to have them join the ranks of our distinguished ISE® Alumni."
The ISE® Central awards recognize both information security executives and projects for outstanding achievements in risk management, data asset protection, compliance, privacy, and network security. Award winners were selected from the U.S. Southeast region, which includes Arkansas, Illinois, Indiana, Iowa, Kansas, Louisiana, Michigan, Minnesota, Missouri, Nebraska, North Dakota, Ohio, Oklahoma, South Dakota, Texas, and Wisconsin. The event is made possible by kilobyte sponsors: Intel Security, NetIQ, Symantec, ThreatTrack Security, Tripwire, and Websense; display sponsors: BeyondTrust, Click Security, Intralinks, Invincea, Seculert, Solutionary, and Tufin; and association sponsor the Metro Atlanta ISSA.
Read more online: http://ten-inc.com/ise/central/default.asp.
About T.E.N.:
T.E.N., a national technology and security executive networking organization, facilitates peer-to-peer relationships between top executives, industry visionaries, and solutions providers. Nominated for numerous industry awards, T.E.N.'s executive leadership programs enable information exchange, collaboration, and decision-making. Its flagship program, the nationally-acclaimed Information Security Executive® (ISE®) of the Year Program Series and Awards, is North America's largest leadership recognition and networking program for security professionals. Other offerings include the T.E.N. Custom Programs and the ISE® Industry Expert Advisory Services, empowering IT solutions providers to gain access to highly credentialed IT business veterans' expertise. For information, visit http://www.ten-inc.com
About ISE® Award Program Series:
For more than a decade, the Information Security Executive® (ISE®) of the Year Award Program Series has empowered security executives and their project teams to Connect, Collaborate, and Celebrate. Recognized as the industry's most prestigious IT Security award program, it has become the most anticipated award program for security executives and their project teams. Winners have included executives and project teams from leading organizations such as Nike, The Walt Disney Company, the United States Postal Service, Schlumberger, Texas Instruments, JPMorgan Chase & Co., Equifax, Comcast, PayPal, Northrop Grumman Corporation, and Nationwide.
Our distinguished ISE® Judges are past nominees representing a cross section of industries, including commercial, government, health care, and academic sectors. For this reason, the ISE® Awards represent the best achievements of the year as evaluated by those regarded as the industry's most influential and successful thought leaders. Coupled with a one or two-day executive summits, the ISE® Awards are held across the U.S. and Canada in major cities including Atlanta, Dallas, New York, Toronto, San Francisco, and Washington, D.C. The ISE® Awards Program Series has reached more than 10,000 executives across a broad range of industries, and has been a major influence in executives' careers, knowledge sharing, and the development of peer-to-peer relationships.