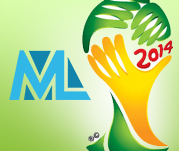 Pavtube Studio offers best solution to watch 2014 World Cup matches anywhere and anytime!
(PRWEB UK) 13 June 2014
During this year's FIFA World Cup, football fans will be able to watch matches anytime and anywhere using new software from Pavtube Studios. Video Converter Ultimate, an innovativeand professional conversion software, allows users to convert TiVo recordings, MXF, MOV, MTS, and other video formats straight onto HDD, NAS server, mobile phones, tablets, HD media players, or YouTube site while maintaining great quality.
TiVo, MXF, MOV, MTS, and other HD video formats are familiar to most TV fans and videographers if they use any sort of DVR, camera or camcorder. However all these formats are not supported by mobile phones, tablets, HDTVs, HD media players, editing software ormost websites.This means that people cannot watch TiVo recordings, MXF or MOV files directly.
Video Converter Ultimate (iMedia Converter for Mac) supports TiVo, MXF, MOV, MOD and more HD video formats created by TiVo desktop, camera or camcorder as the source file. Dozens of video and audio formats are listed under the programme's Format menu as an output option. With CUDA/AMD GPU acceleration enabled, encoding speed is 6 times faster than converting to video using the old H.264 codec.
"This is an all-in-one solution from Pavtube," said Anda Wu, the software's developer. "We are providing not only video conversion software, but also a video editing tool for football fans to backup and convert recorded 2014 World Cup matches. If a user wants to cut out commercials between recordings, there is no need to spend extra money on a different software because Pavtube Video Converter Ultimate does it all."
Video Converter Ultimate also has features that make it stand out from the crowd. With a built-in video editor, users can remove unwanted video scenes, cut off black bars, merge several segments into one file and even add an external subtitle track.
Another innovative feature of the software is the fact that this programmecan now convert video recordings and footage into 3D format. This allows users to watch videos on 3D enabled televisions and 3D projectors using side by side and top down technology.
With the help of Video Converter Ultimate or iMedia Converter for Mac, users will be able to play World Cup TiVo matches on mobile phones, tablets, HD media players, HDTVs;store MXF videos on external HDD, online servers;burn MTS footage to a blank Blu-ray or DVD disc; editDVR recordings in FCP, iMovie, Avid, Adobe Premiere, Pinnacle Studio, etc. and finally upload MOV files to YouTube, and other online sites.
About Pavtube Studios
Founded in 2007 and launched its new official website - multipelife.com in 2014, Pavtube creates expert multimedia software applications that help consumers access, transfer and share their digital content across different devices that range from PC, Mac, tablets, smartphones, to HD media players, game consoles, and home theatre systems.
On the basis of computer OS, Pavtube products are divided into two categories - Windows solutions and Mac solutions, spanning across BD/DVD backing up, and video conversion.
With creativity, expert knowledge as well as cutting-edge technology, Pavtube helps consumers throughout the world enjoy more in a digitally connected audio-visual world. See http://www.multipelife.com/ for more.