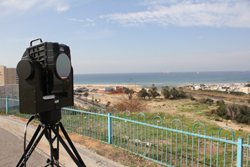 Viewers to the twice-daily EUROSATORY live demonstrations will observe the T-STAMP's clear video images seamlessly transferred in real-time to a ground station from the HoverMast's aerial platform
(PRWEB) June 13, 2014
CONTROP – a company specializing in EO/IR defence and homeland security solutions - is proud to be participating again at this year's EUROSATORY 2014. CONTROP is amongst the world leaders in Electro-Optical (EO/IR) Day/Night stabilized camera systems for air, land and sea surveillance, defence and homeland security applications.
CONTROP will be displaying an operating SPEED-LR system at EUROSATORY 2014. This super long-range EO/IR day/night system provides 24/7 automatic intruder detection and recognition with superb gyro-stabilization and is proven in very long range operational applications for homeland security, border control, airport protection and perimeter surveillance. The CONTROP automatic intruder detection systems are also used worldwide by providing a "virtual fence" over water or land for security of coastlines, seaports and harbours in automatically protecting from intruders by detecting swimmers, small boats and more – before they reach the defined boundary.
CONTROP will also display an operating SPEED-A EO/IR payload which was specifically developed for use on tactical aerostats (balloons), this due to its state-of-the-art gimbal system – with three gyro-stabilized axes, Pitch/Yaw/Roll. The SPEED-A has been ordered by an additional customer in Europe for surveillance applications on aerostats and balloons. The SPEED-A is also being used by the Canadian Army domestically and overseas onboard Aeronautics' Skystar 300 surveillance aerostat. The SPEED-A is field proven and also used in Israel and multiple other locations with extraordinary results for base and force protection - as well as border protection - and is providing unsurpassed surveillance performance. The extensive and proven operational experience with the SPEED-A on aerostats provides optimal security of a Forward Operating Base (FOB) in order to ensure secured support of tactical operations.
In addition, CONTROP will be displaying an operating M-STAMP at their stand in Hall 6 at Eurosatory – a lightweight gyro-stabilized Multi Sensor Payload for Small UAVs (SUAVs) and small aircraft. Weighing only 1.3 kg, the M-STAMP has a CCD with Continuous Zoom Lens, Uncooled IR Camera with state-of-the-art Continuous Zoom Lens and Laser Pointer. CONTROP's STAMP Stabilized Miniature Payloads were selected by the Israeli Ministry of Defense (MOD) as the Sole Supplier – the only EO/IR payloads for the Israeli tactical SUAV Sky Rider Program. The STAMP payloads are operational in Israel and worldwide onboard a large variety of different SUAVs and VTOLs and were also recently procured by another European country for a large scale SUAV program. CONTROP has provided more than 1200 STAMP camera systems worldwide, a true testimony for the proven quality and reliability of these unique for SUAV cameras.
Aeronautics Ltd. will also be displaying CONTROP's M-STAMP on their Orbiter 2 Small Tactical Unmanned Aerial System (STUAS) at their booth in the Israel Pavilion at EUROSATORY 2014. In addition, Aeronautics will be displaying CONTROP's T-STAMP on their Orbiter 3 STUAS. Aeronautics incorporates CONTROP's EO/IR camera systems and presents comprehensive technological solutions for surveillance, defence, target acquisition and homeland security applications.
CONTROP's T-STAMP triple sensor EO/IR payload will also be mounted on the Sky Sapience HoverMast-100, stabilized, mobile, tethered hovering platform at the EUROSATORY live demonstrations. Viewers to the twice-daily EUROSATORY live demonstrations will observe the T-STAMP's clear video images seamlessly transferred in real-time to a ground station from the HoverMast's aerial platform. The lightweight three gimbal gyro-stabilized T-STAMP provides an excellent high resolution image and is now available with 180mm long focal length and improved DRI.
CONTROP offers a wide range of EO/IR gyro-stabilized systems which provide comprehensive long range day/night surveillance and scanning for air, land and sea homeland security and defence applications.
Please visit CONTROP at EUROSATORY 2014 in the Israel Pavilion, Hall 6, StandC-487.
http://www.controp.com/category/eurosatory