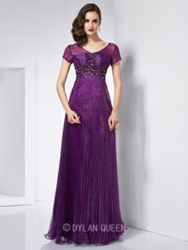 (PRWEB) June 12, 2014
Dylan Queen, the well-known wedding dress manufacturer and retailer, has announced its new range of mother of the bride dresses recently. All the company's mother of the bride outfits are made with great materials; most of them have been highly prized by their buyers.
As one of the leaders in the fashion field, Dylan Queen wants to save both money and time for its loyal customers. As a matter of fact, all the company's mother of the bride dresses are all available at discounted prices now, up to 60% off. The company has won numerous happy clients throughout the world. Many of them love its fashionable items. Now, its website has been updated with the current promotion. Also, the company keeps offering 24/7 online customer service.
All Dylan Queen's workers are striving to make its website a one-stop platform of trendy special occasion outfits. In its online store, it is safe and easy for worldwide customers to place an order. Moreover, all people can write reviews and ask any related questions if they want.
For additional information, Dylan Queen also provides rapid delivery service. All the ordered products will be delivered as soon as possible. For the reliable company, customer satisfaction is of great importance. Its major officials require all workers to make top quality items.
About Dylan Queen
Dylan Queen is a reliable dress company. At its one-stop website, it offers a wide variety of chic dresses, including prom dresses, evening dresses, bridesmaid dresses, formal dresses etc. Its aim is to provide worldwide customers with fashionable gowns at acceptable prices. It frequently updates its website with new assortments.
For more details of the company and its products, please visit http://www.facebook.com/iDylanQueen or http://www.dylanqueen.com/mother-of-the-bride-dresses/.