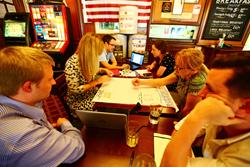 The event highlights the real value of using collaborative hackathons for future digital channel growth.
London (PRWEB UK) 12 June 2014
Hacks are an incredibly efficient and powerful way to deliver new digital marketing products or services. Technology businesses of all sizes are more frequently hosting hackathons, defined as "a collaboration between computer programmers and others involved in software development, including graphic designers, interface designers and project managers, working intensively on software projects as a route to innovation." Indeed, agencies and technology suppliers are beginning to recognise the value in hosting hack events with clients, in a bid to quickly create and improve digital marketing technology, and respond effectively to constantly changing market conditions and demands that are, ultimately, driven by the end consumer.
Marketing technology company FusePump recently worked with their client Chain Reaction Cycles to explore this new method of product development – and started to build a new platform in just 24 hours.
The brief from Chain Reaction Cycles was pretty spot-on, as it described their overall aims and requirements without being too prescriptive (and potentially stifling creativity inventiveness). Like many retailers, they were interested in optimising their Google integrations: Product Listing Ads (PLAs), Google Shopping and PPC bid management. Moreover, they were keen to utilise the available market information to respond quickly and effectively to consumer demand.
To address these areas, teams throughout FusePump hacked the client's data. The winning team created a price comparison platform that would enable Chain Reaction Cycles – or any other client – to take advantage of changing market conditions. It would give them the ability to monitor competitor pricing across various channels, and update their own pricing accordingly. The 'recommendation engine' could suggest a course of action based on the client's profit margins. The client could also use the data to build dynamic display advertising campaigns, and monitor their competitiveness against sales volumes.
For example, knowing that a competitor was missing items from its stock, or advertising them at a higher price, Chain Reaction Cycles could promote their products in the appropriate channels and, in theory, reap the rewards. They could also ensure that their online advertising budget only went towards certain products that were priced competitively (therefore not wasting PPC spend) and where sales margins were considered worthwhile. In short, Chain Reaction Cycles could make sound commercial decisions, taking into account key metrics like price points, margin and stock availability, across comparison search engines, marketplaces, paid search and other channels.
Rich McKnight, Digital Marketing Manager, Chain Reaction Cycles, said:
"Pricing competitively across multiple online channels, such as Google shopping and paid search, is a real challenge for us – one that we were very keen to conquer. The FusePump teams all did really well (considering the short time-frame) to analyse our data, spec ideas, and develop them into workable marketing tools. The event highlights to me the real value of using collaborative hackathons for future digital channel growth. The brief set prior to the hackathon event was met by all teams, and most developed concepts that the business could, and will, look to use in 2014."
Emerging trends in consumer search behaviour mean that competitive pricing is more important than ever. With declining brand loyalty and the ability to compare prices across multiple retailers at the touch of a button, it's crucial to use appropriate market data (and technology) wisely.
Indeed, research shows that being able to dynamically re-price products within marketplaces does increase profit margins. Being price competitive is a great way to acquire new customers.
While the solution hasn't been fully built yet, the team managed to demo a basic working product and prove the efficacy of their idea in just over a day, and provide a business case, with strong supporting evidence for development - including a detailed cost/benefit analysis to prove that the product was completely viable. The team estimates that the full solution could be live in a couple of months, with new clients brought on board in a matter of days thereafter.
Matt Bailey from Performance Horizon Group was one of three judges at the event. "The winning presentation and demo were very thorough and covered all bases – the team thought about all the implications of the product," said Matt. "It didn't just address the needs of Chain Reaction Cycles but could be rolled out to other clients - it could be taken to market very easily."
Hackathons are fun: they build teams and encourage socialising and create a bit of buzz. But the main aim of a hackathon should be to deliver a viable product that solves a problem. Technology suppliers and e-commerce retailers should look at hackathons as a way to work more closely together; to step back from daily tasks and look at market and customer data with fresh eyes, to solve new and interesting problems. The success of the FusePump Hackathon means that it certainly won't be the last one they do.