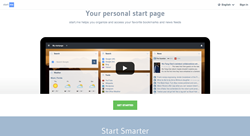 A Personal Start Page Service Launches on Start.ME Domain
Podgorica, Montenegro (PRWEB) June 12, 2014
The .ME Registry is proud to announce the launch of Start.ME, a startup focused on delivering personal start page experience. Start.ME allows users to create start pages and organize their favorite bookmarks and news feeds.
When Google shut down their iGoogle service in November 2013, millions of users around the world had to start looking for an alternative start page. With a user-friendly interface and over 100,000 registrations in just over couple of months Start.ME is on the right way to fill this gap. Their mission is to deliver a personalized start page service that offers minimal distractions and maximum control. Users can easily create whatever they want to see first when they launch a browser using a variety of widgets including bookmarks, RSS feeds, custom search engines, notes, weather information and Google services.
Michiel de Wit, the CTO of Start.ME commented on a .ME domain acquisition: "We wanted a short domain with a universal meaning that could put the emphasis on the the ability of our service to personalize the daily routine of receiving most important news and updates from the Web. Therefore, we are very happy that we secured the Start.ME domain. It is the perfect name for us."
".ME premium domains help brands send a personal message to their customers and prompt them to take action. This is exactly what Start.ME had in mind when they applied for our .ME Premium Domain Program," says Predrag Lesic, the CEO of the .ME Registry. "We would like to see more companies recognizing the importance of sending a call-to-action in the URL of their websites."
The full interview with Michiel de Wit, the CTO of Start.ME can be accessed at the .ME blog.
More information about the .ME Registry and many clever uses of the .ME domain, is available at http://www.Domain.ME.
About the .ME Registry:
The .ME Registry (the d.b.a. of doMEn, d.o.o.) was chosen by the government of Montenegro to operate the new .ME domain name extension. .ME Registry partners include ME-net, GoDaddy and Afilias Limited. Me-Net is a Montenegrin registrar and its founders are leaders of the ICT sector in Montenegro, who among other things participated in a successful privatization of Montenegrin largest ISP. GoDaddy, the world's largest technology provider dedicated to small businesses, is the world's No. 1 domain name registrar. Afilias Limited is headquartered in Ireland and is a leading registry services provider, supporting more than 15 million domains worldwide.