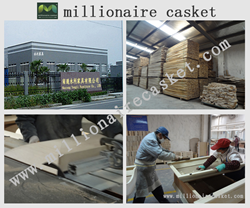 (PRWEB) June 13, 2014
MillionaireCasket.com, a famous casket manufacturer, has recently released its new collection of mahogany caskets. It is worthy to mention that all these brand new items are offered at discounted prices, up to 30 percent off. In the coming days, it will announce more high quality products. The supplier hopes to provide worldwide distributors with all kinds of cost-effective caskets.
In fact, MillionaireCasket.com is popular for its quality products and competitive prices. Now, the company is offering big discounts for its other items, including poplar caskets, ash caskets, maple caskets and oak caskets. All the discounted items are available in various sizes.
The company's members feel excited to launch the big sale. Almost all its items are great and inexpensive at the same time. This special offer will come to an end on June 29, 2014. Most of its clients are satisfied with their purchase. Currently, all the company's current and prospective clients can enjoy the big savings.
For additional information, MillionaireCasket.com has won a very good reputation in the global market. It has over 50 different kinds of quality caskets online for sale; its online workers have listed their names in the online category.
About MillionaireCasket.com
MillionaireCasket.com is a leading casket company that focuses on the business of casket wholesale. This company offers an exquisitely crafted line of all kinds of metal caskets, solid wood caskets, veneer caskets, cremation caskets, rental caskets, orthodox caskets, infant or over-sized caskets and European style coffins. The standard quality control policy is strictly applied here, and a third party quality assurance is also available.
For more information about its cheap items, worldwide readers can visit http://www.millionairecasket.com/70-mahogany-caskets.