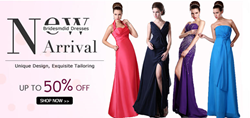 (PRWEB) June 12, 2014
Fancyflyingfox.com is a well-known fashion online store; the business has worked on its new collection of lace wedding dresses for a long time. Recently, the company has launched a promotion of lace wedding dresses, offering great savings (up to 55% off) on these new outfits.
These brand new designs combine classic craftsmanship with trendy patters, resulting in an exceptionally striking visual effect. Moreover, the company has many must-have party looks to ring in the new season.
"We're honored and proud to cooperate with so many popular dress designers. Our new lace wedding dresses are designed for the new generation's wedding parties. With our effort, lace wedding dresses have become more affordable for many young ladies. Now, all people can enjoy a discount when checking out, up to 55% off. Free delivery service is available here as well. Ladies can scour our website of Fancyflyingfox.com in search of the new designs that complements their figures," the CEO of Fancyflyingfox.com states.
As a popular dress retailer, Fancyflyingfox.com has also launched a special offer on these outfits. No more worrying about getting out-of-date on their dress styles; ladies can feel confident when browsing the website of Fancyflyingfox.com because they can own these trendy dresses with a few clicks of a mouse.
About Fancyflyingfox.com
With its trendy women's dresses in various styles and patterns, Fancyflyingfox.com caters to a diverse clientele worldwide. The dress experts here aim to provide the clients with perfect outfit solutions. All dresses here are offered at very competitive prices with free delivery worldwide. More details can be found at http://www.fancyflyingfox.com/lace-wedding-dresses-c9/.