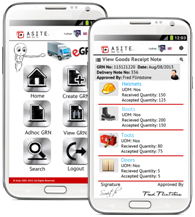 "We believe our clients have a day job to do, and it's not managing their entire supply chain's data and IT." - Tony Ryan
London (PRWEB UK) 12 June 2014
Terminal 5 of London's Heathrow Airport is the largest free-standing structure in the United Kingdom, with a floor area of four million square feet. It cost £4 billion to build, and over the life of the project, 60,000 people worked on it. Heathrow Airport Holdings Ltd. (HAL) spends £400 million each year in ongoing development projects, so if an online collaboration solution can save two percent of that development cost, that's £8 million a year.
Adoddle, a corporate collaboration platform by London-based Asite, did exactly that. The company was rewarded with a framework deal to provide cloud-based collaboration support to the airport authority. That's led to similar deals to work on other big projects, including Dubai International Airport, Crossrail, and Aviva Stadium in Dublin, to name a few.
"We tend to go after large-scale projects," says Asite CEO Tony Ryan. When Ryan took over as CEO in 2006, Asite was focused on construction procurement applications, but was struggling to hit revenue targets. Under Ryan, the company expanded the scope of Adoddle's offerings in the areas of document management, project management, sourcing, and collaborative building information modeling.
"It captures everything from a sketch on a napkin to handover of the finished asset and beyond into facilities management," Ryan says, which he describes as "concept to completion and beyond."
Built for the cloud
Asite also went all-in on a cloud computing model when most companies hadn't even considered it. Asite's existing platform had been built on a self-managed, set-up-your-own, Software as a Service (SaaS) model. "It was very, very costly, and it wasn't up-to-scratch on the speed our clients needed," Ryan says. Asite rebuilt Adoddle from the ground up as a cloud-based offering. "We believe our clients have a day job to do, and it's not managing their entire supply chain's data and IT," Ryan says. "Clients have to be free to focus on cleaner, safer, more cost-efficient buildings."
To read the full Case study click here.