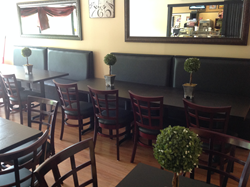 Caledon East, Ontario (PRWEB) June 12, 2014
Canada's leading restaurant furniture manufacturer and distributor, Restaurant Furniture Canada, recently helped Caledon Hills Coffee Company in Ontario, Canada update the seating in their cafe by supplying it with new American made dining booths.
Caledon Hills Coffee Company prides themselves in providing not just food products, but also a service to the local and surrounding community. They try to accommodate their customer's needs by offering gluten-free or vegan meals or non-dairy menu items.
Their goal is to be a strong and vibrant business in the community that also encourages the younger generation to keep active and to stay positive as they mature into contribution citizens of Caledon. They encourage youth interaction by participating in "Youth on-the-job training" programs and supporting local sports teams, like the Caledon Hawks Hockey team and others.
Caledon Hills Coffee Co. has expanded their establishment so that they can better accommodate for families with small children and for families with disabilities. They now have a wheelchair accessible family washroom allowing families to feel comfortable in our space while enjoying a good meal.
The owner of Caledon Hills Coffee Company was looking to upgrade the seating for the café and grill and contacted Restaurant Furniture Canada because of their excellent reputation for quality and service. She decided to go with restaurant booths, which is a family-friendly alternative to tables and chairs. It is also a very popular choice with diners who like the comfort and privacy.
The owner chose Restaurant Furniture Canada's Standard Single Quick Ship Booth in black. The booth comes in black and wine in heights of 36" and 42". The prices for Standard Single Quick Ship booth starts at $235 and can be delivered in 7 – 14 days.
Restaurant Furniture Canada offers a wide variety of restaurant booths. All restaurant booths are made in the USA by skilled craftsman and are known for their quality and durability. Booths can be custom made in any shape or size and out of any material.
"Restaurant booths are very popular with all kinds of restaurants because they add a lot of value," remarked Chris K., sales person for Restaurant Furniture Canada. "Restaurant Booths add prestige to the restaurant and customers love them."
To browse Restaurant Furniture Canada's full selection of chairs, bar stools, table tops, table bases, booths and patio furniture visit http://www.restaurant-furniture.ca/ or talk to a customer service representative at (888) 998-4222 for answers to all your questions on restaurant furniture.
Caledon Hills Coffee Company – Café & Grill is located at 15980 Airport Rd., Unit one in Caledon East, Ontario. They can be contacted at (905) 860-1500 or you can visit their website at: http://www.caledonhillscoffee.com.