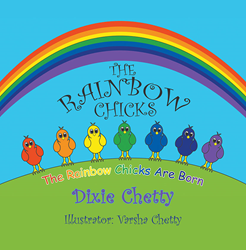 (PRWEB) June 13, 2014
Immediately before the first democratic elections in South Africa in 1994, there was a farm where with a mother hen named Gwen was about to have chicks.
She made a wish upon a star for her chicks to be special. On the day of the election, the chicks were born, each one a different colour of the rainbow! And each one special in its own way.
"The Rainbow Chicks" is named after Rainbow Nation, a term used to describe post-apartheid South Africa, where people of all colours now have the right to vote.
This important children's story was inspired by real events in South Africa that changed the world!
About the Author: Dixie Chetty lives in Durban and works for the government of South Africa. This is her first book.
The Rainbow Chicks: The Rainbow Chicks are Born (ISBN: 978-1-62857-311-4) is now available for $10.00 and can be ordered through the publisher's website:
http://sbprabooks.com/DixieChetty/ or at www(dot)amazon(dot)com or www(dot)barnesandnoble(dot)com.
WHOLESALERS: This book is distributed by Ingram Books and other wholesale distributors.
Contact your representative with the ISBN for purchase. Wholesale purchase for retailers, universities, libraries, and other organizations is also available through the publisher; please email bookorder(at)aeg-online-store(dot)com.
Strategic Book Publishing and Rights Co, LLC