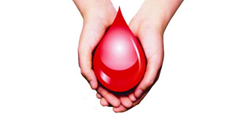 Journal of Blood Disorders & Transfusion publisher observes 'World Blood Donor's on June 14
Foster City, CA (PRWEB) June 12, 2014
It is an event intended to enhance awareness on the ways and means to donate blood following secured measures. The intention of this occasion is not only to save lives of the people, but also to achieve the objective of long and more productive lives. It is particularly creating awareness on how severe bleeding leading to long term disability, mortality and morbidity. The goal of the campaign is to increase the essential to save the blood and its products to prevent deaths.
Journal of Blood Disorder & Transfusion is a peer reviewed journal that assures standard review procedures and it is promoting research and knowledge dissemination in this field. Its mission is to provide an interdisciplinary forum for discussion and debate about most vital issues on blood disorders covering aspects like Hematology, Transfusion Medicine, Hemato-Oncology, suggesting prevention, diagnosis and management of the same.
OMICS Group Inc is a leading open access online journal publisher that publishes 350 online science journals in the fields of Clinical, Medical, Engineering & Technology, Environmental, Management and Life Sciences. It also organizes over 100 international science conferences and events like science congress, workshops and symposium.
Blood is bodily fluid and a living tissue with different components like red blood cells, white blood cells and platelets. Blood delivers necessary substances such as oxygen and nutrients to the cells and transports metabolic waste products away from the cells. Blood disorders are nothing but a small disturbance in the blood, which hampers its functions. The Journal of Blood Disorders & Transfusion is one of the leading OMICS Group Journals that accepts original research articles, case reports, review articles, short communication and other articles. Academic Blood Disorders Journals serve as platform for the introduction and presentation of new research, in the streams of Pediatric Hematology, Laboratory Hematology and Veterinary hematology.
OMICS Group publishes special issues that fall within the scope of the Journal of Blood Disorders & Transfusion in regular intervals. The special issue aims at exploring new, relevant and most compelling dimensions in the field of Blood Disorders & Transfusion that missed a mention in the journal on a regular basis. Special issues include on Hematologic Oncology: Diagnosis & Therapeutics, Blood Transfusion Disorders, Hematopoisis and Immune Regulation, Autoimmune Hemolytic Anemia: Diagnosis & Treatment, Sepsis: Pathophysiology & Management, Leukemogenesis: Mechanism & Clinical Treatment, Cancer Therapies and AIDS Malignancies, Immunohematology: Pathogenesis & Clinical Manifestation.
You may submit your paper by e-mail at editor(dot)jbdt(at)omicsgroup(dot)biz or online submission at http://www.editorialmanager.com/pharma/default.asp.
Regards,
Grandhi NS
Journal of Blood Disorders & Transfusion
731 Gull Ave, Foster City
CA 94404, USA
Phone: +1-888-843-8169
Fax: +1-650-618-1417
Toll Free: +1-800-216-6499
Email Id: editor(dot)jbdt(at)omicsgroup(dot)biz