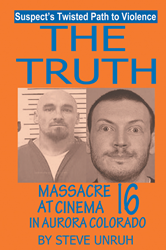 (PRWEB) June 16, 2014
The killer wants to commit suicide, and the author is used as a vessel from a higher power to pray with the man, convince him to repent, and talk him out of his suicidal thoughts. Then the killer opens up with gruesome details of his horrific crime. This compelling new book provides insights into the killer's mind, and a rare look at these tragic events not otherwise available. "The Truth" is gripping in a way only the truth can be.
The Truth: Massacre at Cinema 16 in Aurora Colorado (ISBN: 978-1-62857-083-0) is now available for $14.95 and can be ordered through the publisher's website:
http://sbprabooks.com/SteveUnruh/ or at www(dot)amazon(dot)com or www(dot)barnesandnoble(dot)com.
WHOLESALERS: This book is distributed by Ingram Books and other wholesale distributors.
Contact your representative with the ISBN for purchase. Wholesale purchase for retailers, universities, libraries, and other organizations is also available through the publisher; please email bookorder(at)aeg-online-store(dot)com.
Strategic Book Publishing and Rights Co, LLC