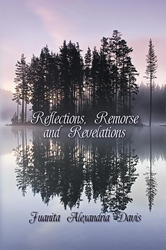 Writing poetry is a hobby. In sports they call it 'the love of the game.'
(PRWEB) June 13, 2014
Juanita Davis' book Reflections, Remorse, and Revelations is not concentrated in any one area. It's mainly light in content, especially in the beginning. But as the book proceeds, there's a mix of silliness and seriousness, and the collection is appropriate for anyone, teenage and older.
Davis wrote her first poem 15 years ago. "I have been on self-imposed hiatus for the last few years. In May of 2012, it was time to come back to it to see if there was a place in the poetic world for me." She explains, "Writing poetry is a hobby. In sports they call it 'the love of the game.' Everyone won't be a superstar, but they still want to play." Readers are invited to kick their heels back and relax, and keep reading until they've reached "as many as your heart can handle."
REFLECTIONS, REMORSE AND REVELATIONS (ISBN: 978-1-62516-278-6) is now available for $10.95 and can be ordered through the publisher's website:
http://sbprabooks.com/JuanitaAlexandriaDavis or at www(dot)amazon(dot)com or www(dot)barnesandnoble(dot)com.
WHOLESALERS: This book is distributed by Ingram Books and other wholesale distributors. Contact your representative with the ISBN for purchase. Wholesale purchase for retailers, universities, libraries, and other organizations is also available through the publisher; please email bookorder(at)aeg-online-store(dot)com
About the Author: Juanita Alexandria Davis was raised in the Rehoboth Beach area of Delaware and now resides in Baltimore, Maryland. She is an admissions coordinator for a hospital.
Strategic Book Publishing and Rights Co, LLC