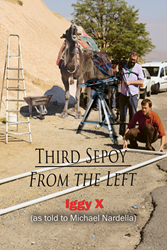 (PRWEB) June 13, 2014
Once on location, we discover Iggy is taking fake tan medication and posing as "Sunil Chatterjee," in order to get the part of an Indian sepoy (camel wrangler) in a drama about the ill-fated explorers, Burke and Wills. Soon he and the other two actors playing sepoys are cajoled into appearing in "Camel-a-lot," a reality-type show intended for the DVD's special features, in which they must compete for the role of head sepoy and for screen time with Russell Crowe.
Against a backdrop of paranoid security concerns, creative differences, and diabolical catering, Iggy stumbles from one calamity to another, including being saddled with an alcoholic camel, living with Elvis-worshipping carnies after a flood, recovering the stolen main generator, and finding love in the most unexpected way imaginable.
As Iggy strives to earn his first speaking credit, the teetering production threatens to implode, robbing him of his childhood dream.
Third Sepoy From the Left (ISBN: 978-1-62857-000-7) is now available for $17.50 and can be ordered through the publisher's website:
http://sbprabooks.com/IggyXastoldtoMichaelNardella/ or at www(dot)amazon(dot)com or www(dot)barnesandnoble(dot)com.
WHOLESALERS: This book is distributed by Ingram Books and other wholesale distributors.
Contact your representative with the ISBN for purchase. Wholesale purchase for retailers, universities, libraries, and other organizations is also available through the publisher; please email bookorder(at)aeg-online-store(dot)com.
Strategic Book Publishing and Rights Co, LLC