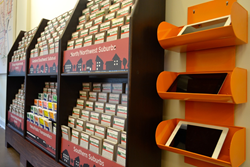 Our goal is to inform the prospective first time home buyer and within this space, we provide the tools to get them started on their journey.
Chicago, IL (PRWEB) June 12, 2014
StartingPoint Realty recently hosted a weekend celebration for the grand opening of their 900-square-foot Chicago Resource Center, located at 3224 N. Damen Avenue. The Chicago Resource Center provides first-time home buyers with a broad spectrum of educational materials and information.
As part of the grand opening event, staff members of StartingPoint Realty worked with area volunteers to clean up Fellger Park, removing debris and beautifying it for the summer season. "We want to be good neighbors," said StartingPoint Realty President Ryan Gable. "We're proud to be a part of this community, and we're extremely grateful to all of the volunteers who helped clean up Fellger Park."
The celebration continued with a champagne brunch the following day, hosted at StartingPoint Realty's Chicago Resource Center. Clients, area residents and staff members enjoyed delicacies and beverages while touring the facility.
"We're not here to sell anything," explained Ryan Gable. "Our goal is to inform and interact with prospective first-time home buyers. This is a neutral environment where they can ask real estate questions and help themselves to comprehensive resources – without any sales push."
 
The Chicago Resource Center at 3224. N Damen Avenue includes free take-along materials such as brochures about the home buying process, and information about Chicago neighborhoods and nearby suburbs. Tablet computers are used to display home buying documentation, and to show prospective buyers how to navigate listing data.
This location also hosts free weekly seminars about mortgages and home buying. The seminars are conducted by highly-experienced StartingPoint Realty staff members and a licensed mortgage lender.
"The free home-buying seminars are truly free," says Ryan Gable. "There is no cost to register. There are no sales pitches. There is no pressure whatsoever. It's a classroom-type of environment, except we make it more fun. I encourage anyone who's curious about the home buying process to attend one of our seminars."