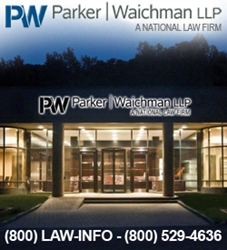 "We are happy to see that the High Court continues to let stand the original verdicts in the ongoing Engle litigation," said Gary Falkowitz, Managing Attorney at Parker Waichman LLP.
Port Washington, New York (PRWEB) June 12, 2014
National law firm Parker Waichman comments on a Supreme Court denial of 10 recently brought petitions that sought to challenge tobacco damages verdicts. The 10 petitions totaled more than $64 million and represent part of an ongoing legal fight that continues between Florida smokers, or their heirs, and major tobacco manufacturers. This is the eighth time in seven years that the High Court has issued such a denial, according to a June 6, 2014 ScotusBlog report.
The 10 petitions were denied without comment or noted dissents (Order List: 573 U. S.; Monday, June 9, 2014):

13-1180: Philip Morris USA v. Barbanell, Leon
13-1185: Lorillard Tobacco Company v. Mrozek, Michelle
13-1186: R.J. Reynolds Tobacco Company v. Mack, Peter
13-1188: R.J. Reynolds Tobacco Company v. Kirkland, Leroy E.
13-1189: R.J. Reynolds Tobacco Company v. Koballa, Stella
13-1190: R.J. Reynolds Tobacco Company v. Smith, Vernell
13-1191: R.J. Reynolds Tobacco Company v. Townsend, Lyantie
13-1192: R.J. Reynolds Tobacco, Et Al. v. Sury, Robert
13-1187: R.J. Reynolds Tobacco Company v. Brown, Jimmie L.
13-1193: R.J. Reynolds Tobacco Company v. Walker, Alvin, et al.
These cases are part of what is considered the third round in Florida's "Engle litigation," which was originally filed in 1994 (Case No.: SC03-1856; Florida Supreme Court). The litigation now involves thousands of individual lawsuits brought against cigarette companies; individually, the lawsuits are believed to be easier to win due to the way in which the Court originally devised the plan regarding how the cases would be tried, the ScotusBlog report indicates. The 1994 Engle case involved six individuals and eight claims of injustices allegedly conducted by tobacco firms against smokers. Allegations ranged from fraud claims to claims that cigarettes are inherently dangerous due to their flawed designs.
"We are happy to see that the High Court continues to let stand the original verdicts in the ongoing Engle litigation," said Gary Falkowitz, Managing Attorney at Parker Waichman LLP. "These ongoing denials should send a strong message to the tobacco industry that the verdicts reached are appropriate and require no further review."
Engle was originally filed as a nationwide class action on behalf of smokers who either suffered from, or died from, a smoking-related disease. The litigation was reduced to cover a class in Florida and was further reduced so as not to be a class action at all. Engle was ultimately broadened into the thousands of individual trials it represents today—the so-called "third round," according to the ScotusBlog report. Notably, in the first case, the Florida courts created a legal plan under which the original case would be the one in which findings of fact and findings of legal liability would be developed for all smokers and all types of cigarettes. This plan would become binding in later cases. The second round was meant to decide questions of liability for three of the class's representatives, as well as a question of punitive damages for the class entire.
Meanwhile, the original Engle jury awarded the class $145 in punitive damages; the award and class designation were both set aside by Florida's Supreme Court. When the individual cases began to be tried in the third round, the original jury's findings were binding. Following the state Supreme Court's 2006 decision, over 9,000 individual claims were brought and, over the following seven years, the tobacco industry has sought to have the High Court both review the original Engle decision and Engle's "progeny" lawsuits that followed, according to ScotusBlog. The Court continually denies these requests, including in the recent 10 petitions, which were all filed on March 28 and which all raised basic questions about constitutional due process violations.
The attorneys agreed that two cases should be presented for court review and suggested that the Court grant one or both: R.J Reynolds Tobacco Co. vs. Brown and R.J. Reynolds Tobacco Co. vs. Walker, docket number 13-1187 in the District Court of Appeal in Florida, Fourth District and involving $600,000 award and docket number 13-1193 in the United States Court of Appeals, Eleventh Circuit and involving $27,500 and $7676 verdicts. The other attorneys agreed that their cases would remain pending until a decision was made on the two lead cases, ScotusBlog reported. The verdicts in the pending cases were significantly larger and ranged from $5.5 million in compensatory and $20 million in punitive damages for a total of $13.4 million and $51.6 million, respectively. The winners in the 10 cases opted against answering the tobacco makers' petitions; however, the Supreme Court sought a response on each. Following examination of all of the cases, the Court denied them in what ScotusBlog described as a "series of one-line orders."
Parker Waichman LLP is a leading personal injury law firm that represents plaintiffs nationwide. The firm has offices in New York, New Jersey, Florida, and Washington, D.C. For more than two decades, Parker Waichman LLP has assisted thousands of clients in receiving fair compensation for injuries resulting from defective drugs, medical devices and other products. Free case evaluations are also available by calling 1 800 LAW INFO (1-800-529-4636).