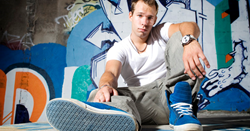 With World Cup starting, we need to remind everyone that Bullying in football won't stop until we put a stop to it.
London, UK (PRWEB) June 12, 2014
Bullying statistics can often lead outside of the school yard and into the ever-growing competition on the football field. And with World Cup 2014 starting, it is probably a good time to wonder, what is the deal with bullying in football? NoBullying examines bullying in football in an article released today.
Any parent with a dream for their child of being the next big star can lose sight in camaraderie of football team sports and ignore bullying incidents. So why does bullying in football occur?
On the football field, bullying can occur from a teammate, a coach, a parent or even a fan. Children bully each other with encouragement from their peer groups, while some players may use harsh words against their teammates to make themselves feel better about their skills in the field while making others feel smaller.
Bullying in football could also refer to coaches bullying players into performing better, thinking hateful demeaning words would help those players forget the stress and exhaustion and focus on playing a good game.
Bullying in football needs everyone involved to create awareness and realize the effects of discouraging others and saying mean things to sportsmen and women. Bullying in football can also materialize in the form of cyberbullying, as some fans are most likely to take to social media and say bad things about players who either scored against their favorite team or their own players not playing as well as they had hoped to.
There are several aspects to bullying in sports and as with every other aspect of bullying, it needs to stop immediately.
Macartan Mulligan, Co-Founder of NoBullying.com, said "World Cup, a great international respected football championship starts today and we need to remind everyone that Bullying in football won't stop until we put a stop to it, so be the one who makes the commitment to put a stop to it, today."
He added that parents and teachers should make a point to educate the younger generations about the sad outcome of bullying online and offline. According to Mulligan, it is quite imperative to press for more firm laws condemning all acts of bullying and harassment.
NoBullying.com features many pages dedicated to parents, teens, teachers, health professionals as well as posts related to cyber safety and the latest news about law making concerning curbing Bullying worldwide as well as inspirational Bullying Poems and famous Bullying Quotes.
The website regularly updates its bullying statistics and cyber bullying statistics as it is essential to understand how widespread the bullying epidemic is. It also regularly runs cyber bullying surveys and questionnaires to get recent updated statistics on everything related to cyberbullying.
He also added that anyone suffering from bullying in any form or way can always find advice and help on the NoBullying website – but if anyone is suffering from severe bullying or cyber bullying, the best thing is to talk to someone locally – a parent, teacher or local organization that has been set up to help with specialized councilors to deal with this topic.