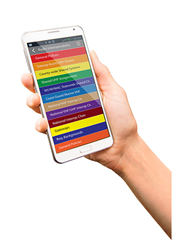 "The excitement of our existing clients is gratifying and we look forward to helping others add this useful tool to their preparedness, operations and response plans."
Shawnee Mission, Kan. (PRWEB) June 17, 2014
Guest Communications Corporation (GCC) recently announced the launch of its first mobile application, a companion to its printed, quick-reference products, the Guide to Emergency Preparedness™ and the Guide to Field Operations. The mobile application, My-EOP™, allows users access to their organizations' custom emergency operations plans (EOP) through their mobile devices.
The application was designed to provide organizations with the ability to more widely share emergency operations plans with staff, team members and emergency responders through their mobile devices. It is already being used in hospitals, schools, and universities as well as federal, state, county and municipal agencies. Emergency responders have also begun to implement My-EOP along with many other industries, such as energy production. Common uses include incident and emergency response, radio interoperability and tactical communications.
One of the main features of the application is its ability to be used regardless of whether or not the user has wireless connectivity. Once you install My-EOP and download your organization's plan, the application no longer requires connectivity to view the information. This is a real benefit when cell towers are lost in a natural disaster. Other features include automatic updates, two-step security authentication, one-touch dialing, one-touch email and the ability to add maps, pictures, tables and addresses that link to a map location.
The emergency plan documents within the application are formatted to read like a flip chart, making it easy for users to quickly find the information they need. Contact information is stored within the documents and in a separate contacts list, ensuring that all users have access to the same key contacts and that they have the most accurate information on hand.
"Mobile devices have become an integral and useful part of everyday life. The ease with which we can 'look-it-up' parallels the ease of use of our printed quick reference products. It was natural for us to develop an application that mirrors what we've been doing for such a long time in our custom guides," said Richard Travers, president of GCC. "The excitement of our existing clients is gratifying and we look forward to helping others add this useful tool to their preparedness, operations and response plans."
My-EOP was designed for use on Apple and Android mobile phones. It can also be used on Apple and Android tablets. It can be easily accessed and downloaded through the Apple App Store, Google Play and the Amazon Store.
About Guest Communications Corporation
Guest Communications Corporation is a custom publishing company. The company began producing custom quick-reference guides over 27 years ago. The guides are used by thousands of hospitals, school districts, industrial organizations and government agencies. To find out more, please visit our website at http://www.gcckc.com.
Contact Information:
Amy Schweer – Sales Manager
1-800-637-8525
info(at)gcckc(dot)com or sales(at)gcckc(dot)com