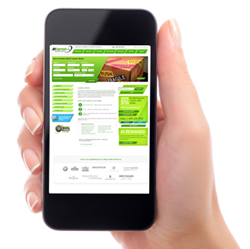 Atlanta, GA (PRWEB) June 13, 2014
A-1 Express, a recognized leader in same-day delivery, messenger and transportation services, announces its online three-step courier order process. The announcement comes in an effort to improve online courier ordering and increase non-account holder online sales. A-1 Express strives to be the best choice in same-day courier solutions nationwide.
A-1 Express has the three-step courier ordering process on the home page of its comprehensive website. The first step is to complete the quick quote form, in which the customer is able to get pricing on courier services. For a quick quote, the form requires the origin zip code, destination zip code, the number of packages, package weight, ready time, and e-mail address. The courier's pricing is primarily generated from the distance between the zip codes provided.
Once the customer receives their quick quote, the customer has the option to place an order with A-1 Express via online or phone with a credit card. Lastly, the order is submitted, by which a team member of A-1 Express' couriers and messengers is dispatched.
The three-step courier ordering process make same-day delivery quick and easy. Within the order, A-1 Express recommends that customers submit any special instructions or comments regarding their courier service. Special instructions will assist A-1 Express and its drivers in performing a high rate of on-time deliveries. The New York courier is also available 24/7 to meet the same-day delivery needs of its customers, including tracking, pricing, location adjustments and order adjustments.
A-1 Express is a premier same-day courier offering transportation and distribution services. From small packages to palletized freight, A-1 Express delivers fast! As a leader in the courier industry, their goal is to perform optimal courier logistic solutions and superior customer service every time. The courier provides same-day delivery successfully for over 1,500 clients, including Fortune 500 companies nationwide.