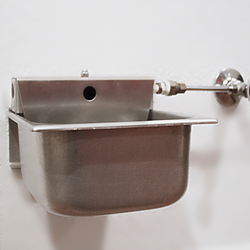 The best thing we ever did was install a Nelson Automatic Dog Waterer in our home.
Hudson CO (PRWEB) June 17, 2014
Dogs Unlimited has come up with a list of 5 items that are guaranteed to save time and make living with dogs more enjoyable, especially during the summer months.
1. Dog Door. A dog door is one of the most life altering items that can be installed in a house that will have an immediate impact on time savings. No more trips to the back door to allow entry and exit, installing a quality dog door gives the dog the ability to come and go at will.
2. Automatic Dog Waterer. Once installed, an automatic dog water dish will be a time saver each and every day. No more daily rinsing and filling a water bowl. As Alan O Davison, owner of Dogs Unlimited says, "An automatic dog waterer is an absolute time saver. Once hooked up to a water source, either plumbed directly into a water line inside the house or outside attached to a faucet, having an automatic dog water bowl is the way to go."
3. Dog Gates. Summertime sees an increase in social entertaining and utilizing a dog gate to keep them out of certain rooms or locations can save time and energy. This simple barrier can help save time all summer long.
4. Outdoor Dog Bed. These types of dog beds can be a huge time saver during the summer. No more moving dog beds into and out of the house. Davison says, "Most outdoor dog beds are designed just like outdoor furniture cushions; they're made to handle the elements. Keeping one on the back porch all summer long is easy and convenient."
5. Flea & Tick Applications. Most dogs don't spend their entire lives inside, they venture outside and come into contact with unhealthy fleas and ticks. Dogs treated with flea and tick repellant on a regular basis will be free of these disease carrying insects. No trips to the vet, a definite time saver.