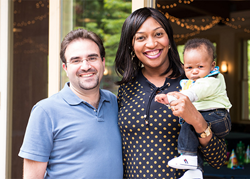 Chesterbrook, PA (PRWEB) June 20, 2014
Last month, Dr. Isaac E. Sasson, Dr. Abraham K. Munabi, and the staff of Shady Grove Fertility in Pennsylvania hosted over 75 families for a day of fun, laughter, and ear-to-ear smiles at Elmwood Park Zoo.
In preparing for a day like this there is a hyper focus on the details. It's like planning a wedding or graduation party. Will the weather be nice? Will we have enough food? Will they have fun? What music should we play? All those worries melt away when you see the first family to arrive…and they are crying.
Anna and Mike, with their new baby girl, Violet, were the first to arrive. They had gone through two years of infertility and finally found Shady Grove Fertility's signature Shared Risk 100 Percent Refund Program. It was a long journey. When Anna began walking over she started to cry. Her first words were "I don't know why I'm crying! I've missed you all so much."
"Patients entrust us with their care at such a vulnerable time in their lives. It is our honor to care for them, hear their concerns, cry with them, and guide them in their medical choices. To see these patients again after many months in our care was overwhelming. I don't think the patients, our staff, or I realized the emotions we were going to feel," says Isaac E. Sasson, M.D., Ph.D.
Almost everyone knows someone who has had trouble having a baby. The heartache, the tears, the questions, and the unknown can be devastating. The Shady Grove Fertility team has been able to give hope back to patients, help families feel in control again, and make fertility options more affordable than ever before. We are honored to have received such an outpouring of response since expanding to Pennsylvania. This Family Day was a wonderful way to celebrate our patients, their perseverance, and their ability their continued hope in the face of many challenges.
Also joining the doctors and staff was Kirandeep and Jagmohan, and their 3 month old baby boy Fahteh, who looked stylish in his newsboy cap and wide grin. After three failed IUIs and one round of IVF, Kirandeep and her husband turned to Shady Grove Fertility for help.
"It was a joyous day for all of us at Shady Grove Fertility to reunite with patients like Anna and Kirandeep. Meeting their beautiful babies and seeing all the smiles is very special for our team. Families come in many different ways today, it is our goal to help them achieve their dream of becoming parents," says Abraham K. Munabi, M.D.
Since Shady Grove Fertility expanded to Pennsylvania in 2012 over 120 babies have been born in Philadelphia and surrounding areas.
See more of Shady Grove Fertility's Family Day here: http://tessamarieimages.pixieset.com/shadygrovefertilityatthezoo/
###
About Shady Grove Fertility Pennsylvania: Shady Grove Fertility, America's largest and most progressive fertility center, has four offices in Pennsylvania located in Reading, Harrisburg, Bala Cynwyd, and a full-service, state of the art center and laboratory in the Philadelphia region at Chesterbrook. Comprehensive services at Chesterbrook include IUI, IVF, Donor Egg, Andrology services, as well as the resources to comprehensively address patients' needs: medical, emotional, and financial. Our caring and compassionate staff throughout Pennsylvania includes four board certified reproductive endocrinologists, exceptional medical support team and experienced embryology laboratory staff.