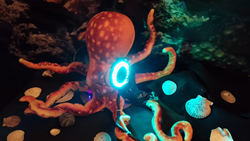 "We've done a sweepstake in the office, so we're all hoping Robo Paul's predictions come out in favour of the teams we have drawn."
Shoreditch, London (PRWEB UK) 13 June 2014
In 2010, it was reported that the World Cup match-predicting octopus Paul slept with the fishes. But conspiracy theories abounded over the death of the world's most famous cephalopod. And rightly so! Today, VPS.net can reveal that Paul is well and truely alive and swimming in their head office. Better still, he'll be predicting the outcome of every World Cup match for VPS.net.
At first glance, Paul may look a little different to the way he looked four years ago. But he had to have a little work done to bring him back from death's door. VPS.net inventor Cody Erekson helped turn the flailing octopus into super-strong Robo Paul to make sure he'd endure the challenging task of predicting the outcomes of all 64 World Cup matches.
"Paul's psychic abilities were always really important to me and I knew the value they held on the world's stage," says Cody. "When I heard of his imminent death - forecasted by Paul himself - I sprang into action! Utilizing top-of-the-line cyborg technology, I was able to save Paul's life and eventually restore all of his faculties, as well as provide him with many new communication abilities."
Starting on Thursday June 12, ahead of the Brazil v Croatia game, Robo Paul has been filmed making his match predictions. His forecasts, which are based on a coding algorithm, will be uploaded to YouTube for the world to see. However, just in case football fans wanted an extra hit of Robo Paul's predictive powers, they can also log-on to Paul's website to get him to predict the outcome of matches even further in the future.
"We've done a sweepstake in the office, so we're all hoping Robo Paul's predictions come out in favour of the teams we have drawn," says Sara Cunha Rego, director of marketing for VPS's parent company UK2 Group. "But we will be watching especially closely on June 14 when Paul forecasts who will win the game between England and Italy."
To see Robo Paul's first prediction, visit the VPS.net blog , or catch up with him on the YouTube channel.
ABOUT VPS.NET
VPS.NET operates one of the largest cloud hosting systems in the world. It offers affordable cloud hosting to everyday users, while giving enterprise users the flexibility they need to adequately scale, and handle their growing IT demands. VPS.NET is a division of the UK2 Group, which provides domain registration and Web hosting services to thousands of customers globally through its family of hosting brands; UK2.net, Midphase.com, WestHost.com, 100TB.com, ANHosting.com, Resell.biz, and VI.net. VPS.NET is committed to providing secure and reliable products and services underpinned with excellent support. For more information about VPS.NET, visit http://www.vps.net.
ABOUT CODY EREKSON
Cody Erekson is a full-time software developer and part time tinkerer and inventor. Inspired by 'maker' movements driven by devices such as the Raspberry Pi and Arduino, he loves to bring the virtual world and physical world together in any way possible.
For interviews or more information about Robo Paul email the VPS.net marketing team at sarah.holt(at)uk2group(dot)com.