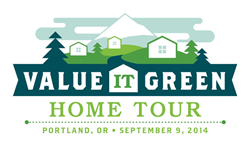 Portland, Oregon (PRWEB) June 16, 2014
Earth Advantage, the Portland, Oregon nonprofit provider of green building research, education and certification, is launching the nation's first home tour for REALTORS®, appraisers, and lenders focused on how to value and sell the green features of a home. The tour will provide in-depth learning and expert knowledge of the best practices and tools used in the housing market to value the unique aspects of green and high performance homes.
The Value It Green Home Tour will take place September 9, 2014 from 12 p.m. to 5:30 p.m., beginning and ending at Portland's World Forestry Center. Participants will enjoy a luncheon before embarking on chartered buses across the city to visit the latest newly built green homes, accessory dwelling units and green remodels. At each home, building industry and real estate experts will lead the tour groups through the homes, identifying what makes them green and how to accurately value and sell those features that make a home more durable, healthier and comfortable. At 6 p.m. participants can enjoy an after party with drinks, hors d'oeuvres, and networking. The State of Oregon Department of Environmental Quality and NW Natural are presenting sponsors of this year's tour. Additional support is provided by Energy Trust of Oregon and the City of Portland, Bureau of Planning and Sustainability.
In the city of Portland, over 40% of all new homes carry a third-party green certification or receive an energy performance score, such as the Energy Trust's EPS. Professionals involved in the financing, appraising and selling of homes in the Portland metro area are recognizing the need to better understand these home designations and the tools that are available to more effectively market and accurately value these types of homes.
David Heslam, executive director of Earth Advantage said; "This is a rare opportunity for real estate professionals to be guided by local experts through some of the nation's best examples of high performance homes. They will learn what technologies and practices make them green, and what the current best practices are for valuing, marketing and selling these homes.
Tickets are now available on the website with group discounts available through the end of June. For more information or to purchase tickets, visit: http://www.valueitgreen.com.
About Earth Advantage
Earth Advantage is a Portland, Oregon based nonprofit whose mission is to accelerate the creation of better buildings. They provide knowledge to building professionals and information to consumers through certification, research, education, and product development to help realize a building industry that harmonizes with the natural environment.