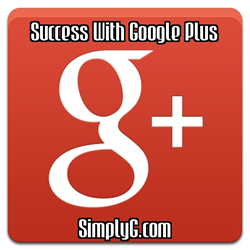 GJ Reynolds said, "Google Plus encourages ongoing and relevant content. This gives you a little more autonomy and security in building your business and brand."
Lincoln, Ne (PRWEB) June 19, 2014
Neil Haley, the Total Tutor, host of the Simply G Radio Show, interviewed a Top 10 Percent in the World in Social Media Expert and Entrepreneur GJ Reynolds, to get his take on the importance of Google Plus, learn what tips he provides people, and get an update on the new ebooks that he will be writing.
Reynolds is an original founding member in the company ViSalus and is now a 5-Star Ambassador, Vi Millionaire, and CEO of Simply G Media. He has written a book titled "The Playful & Powerful Warrior Within You!" and holds the distinction of completing the Dale Brown Challenge by working out for over 975 days straight (and counting).
In the interview, Haley and Reynolds talked about the importance of Google Plus and what sets it apart from other social networks.
"Most people do not understand the power of their Google and Gmail account," said host Haley. "We have figured out how to master Google Plus. Google Plus has some great benefits and it is clear Google continues to add to making it better for the user. There are some people who do not like Facebook and choose Google Plus instead."
Reynolds, who averages 4,500 interactions and 277.9 million impressions per month, also has more than 20,000 connections on Google Plus. GJ said, "Google is never going anywhere. They are here to stay and have made additional improvements with the platform. For instance, they added Google hangouts which allows me to talk to a group in Europe while being here in the U.S."
"Also," Reynolds continued, "In most cases, when you add someone on Google Plus they will typically add you back. There seems to be more reciprocity and there is no limit to how many connections you are able to have. It is now easier to develop personal relationships on Google Plus."
Haley, who expressed how much he enjoys the platform, said, "You can connect to people you never thought you can connect to. You can add as many people to your circles with Google plus and as GJ said there is no limit."
"Thanks to Google Plus, you are able to create an audience in seconds," GJ said. "If you friend to many people you get placed in Facebook jail, when adding too many new connections. You are able to add as many people on Google Plus and they never penalize you. When you post multiple things they never penalize you as well. Google Plus encourages ongoing and relevant content. This gives you a little more autonomy and security in building your business and brand."
Reynolds also explained that posting in Google Plus will help your post show up in Google searches, also known as Search Engine Optimization (SEO).
You can find out more information on Simply G Media by going to http://simplyg.com/media/simplyg-radio/