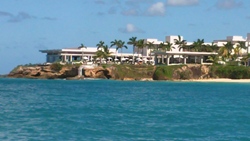 Guests enjoy up to $500 in resort credit this summer!
Anguilla, British Virgin Islands (PRWEB) June 18, 2014
Imagine spending your days and nights on an island referred to as "tranquility wrapped in blue." Viceroy Anguilla enhances the experience with the Art of the Getaway where guests can use up to a daily $500 credit to spend as they wish at the resort. The credit is based upon the accommodation selected:

Viceroy King: $100 credit
Viceroy Studios: $200 credit
One-bedroom, two-bedroom and three-bedroom Suites and Residences: $300 credit
The four- or five-bedroom Villas: $500 credit
The resort credit can be used toward spa services, culinary offerings, and resort activities including Cabana rentals at the Aleta pool and refreshing (alcoholic and non-alcoholic) beverages at all restaurants at the resort. See below for the Top 10 Summer Resort Credit Ideas.
Two of the most popular ways to spend the credit are with spa treatments or resort dining.
The luxurious Spa at Viceroy Anguilla offers a broad range of fitness, social, body and energy programs that are supported by Viceroy's signature wellness principles of balance, breath and beauty.
Exceptional dining options include the resort's signature restaurant Coba, the beachfront Bamboo Bar & Grill on Meads Bay and beachfront at Half Shell on Barnes Bay, poolside breakfast and lunch at Aleta, and the resort's famously popular Sunset Lounge.
Rates start at $550 per night. For more information or reservations, please contact your travel professional, call 800 578 0283 or visit our website.
About Viceroy Anguilla
Situated on 35 lush acres, with 3,200 feet of beachfront land along Barnes and Meads Bays, Viceroy Anguilla offers accommodations including contemporary beachfront and bluff-top villas with full kitchens and butler service; sophisticated townhomes; and lavish resort residences. Renowned for its remarkable design, superb location and exceptional amenities, the resort draws jet-setting travelers from all over the world.
Top 10 Summer Resort Credit Ideas
1. Beach BBQ – Spend the evening on the beach enjoying a BBQ buffet, live entertainment, fresh coconuts and a smores' bonfire.
2. Sun n Spa – Relax poolside with an unforgettable massage under the swaying palms.
3. Island Style – Treat yourself to a Caribbean braid or simply allow our stylists to pamper you in the Salon.
4. Fitness Fanatic – Kick your workout up a notch with our Boot camps, waterfront yoga classes or private tennis lessons.
5. Sunset Sensations – Enjoy your favorite libations at the Sunset Lounge.
6. Starlight Dining – Sit under the stars and enjoy a private dinner for two.
7. Luxury Living – Use the credit to upgrade your accommodation.
8. Cooking Class - Learn from the pro in your private cooking class
9. Poolside Cabanas - Relax in the comfort of a luxurious cabana and poolside bed.
10. Backpacks & Givebacks – Donate your credit to support the children of Anguilla with our Giveback programs.