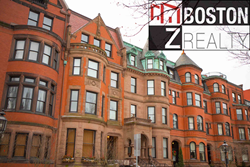 Boston, MA (PRWEB) June 16, 2014
As the warm weather continues, many Bostonians are opening their minds to buying a new home. Oftentimes, when searching for a home in Boston, the homebuyer is limited to looking for a condo.
The buyer specialists for Boston Z Realty pride themselves on being knowledgeable about the Boston proper community and the condos that are located within it. They can quickly determine which condo buildings have the amenities that their buyer is looking for. Whether looking for a designated parking spot, a secure entry, or proximity to a certain location, Boston Z Realty can help you find your perfect home.
A full-service real estate brokerage, Boston Z Realty helps buyers and sellers with all types of homes and property. Their professional realtors stand by clients through the entire buying or selling process, ensuring that all necessary actions are fulfilled, and making client interest their top priority.
Boston Z Realty was formed in 2012 by Dillon Currier and Wendy Heyman, and focuses primarily on residential home sales and rentals in Boston and the surrounding areas. Their motto, "Leaders with Integrity" is affirmed with their dedicated agents and staff and the superior service, quality, and ethics offered to their clients. For more information about Boston Z Realty, call (617) 262-2224, or visit them at http://www.BostonZRealty.com.