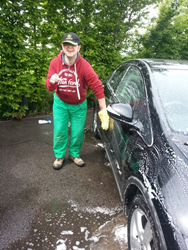 (PRWEB UK) 16 June 2014
The specialist autism support and care provided at Goldcrest House tackles the eventual hope that most residents will achieve independent and fulfilling lives through integration in to every day society.
Helping them achieve this is the newly developed volunteer programme that sees residents offer their help and skills out in the community. From simple domestic jobs, to more challenging skillful tasks, a handful of residents have the capability and enthusiasm to help; which in turn will aid their progress in becoming empowered individuals.
Eileen Smale, the programme creator says: "Our work at Goldcrest House is all about addressing autism and helping our residents work through the effects working towards a fulfilled and empowered life. We came up with the idea after a discussion with our residents and a significant amount thought it would be a fantastic idea to help others."
Goldcrest House would love to hear from anyone who feels they could benefit from a little extra help with those everyday tasks. Tasks would be completed by responsible and capable adults who simply find pleasure in helping other people.
She continues: "We really do hope people take us up on the offer, there's nothing better than helping those within your own community thrive."
To learn more and receive help please contact Eileen Smale at Goldcrest House on 01405 763607 9-5pm Monday to Friday.
Based on Boothferry Road Goldcrest House is a centre of excellence dedicated to addressing the individual needs of adults over 18 affected by Autistic Spectrum Disorder and learning difficulties. It is a residential home that provides long-term integrated specialist day and residential care to meet the varied needs of those who access the service 52 weeks a year; its aim is to be the UK's quality service of choice.