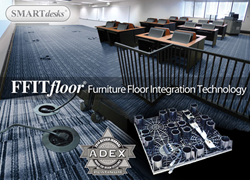 FFITfloor now supports GPON fiber for greater bandwidth, security and lower energy costs
Baltimore, Maryland (PRWEB) June 13, 2014
SMARTdesks launches important innovations at infoComm14 in Las Vegas, booth C4917, June 18-20. SMARTdesks theme leads with FFITfloor computer floor, with an expansion of AV, power and data cabling capabilities. FFIT is Floor + Furniture Integration Technology. Unveiled at infoComm14 will be the FFITspace™—a customizable compartment sporting a data cable friendly port, which allows easy IT access to components, such as GPON fiber optic routers. Constructed of 12 gauge steel, the inside dimensions of the FFITspace 2550 is 9.5" x 19.25" x 2.375"; the FFITspace 2525 inside dimensions are 9.5" x 9.5" x 2.375". The same hatch is used for access.
FFITfloor, a lower cost alternative to conventional carpet and electrical contracting, installs in hours, not days. Power and data locations are interchangeable parts based on the carpet tiles, themselves. As such, they may be picked up and moved to accommodate changes in the arrangement as easy as moving the furniture. Each pedestal is tested to bear up to 50,000 pounds of load. Backed by a 10 year warranty.
Specialized labor is not required for installation—easily coordinates with other trades, requires no demolition, no core drilling, no special tools, no environmental impact. The UL Approved outlets and cable snap together—no electrician is required, except to install the whip into the service panel, which can be scheduled after the floor and outlets are installed.
SMARTdesks provides design services that locate the furniture in the space and superimposes the wire routing plan for placing power, AV, data and FFITspace access boxes to FFIT the schematic for users in the space. These design services are provided at no additional cost and without obligation. Because FFITfloor is not a permanent part of the building, it can be depreciated like furniture, in seven years instead of thirty-nine. FFIT may be moved to another room or another facility and used again without demolition.
SMARTdesks adds flipIT Lift to its flagship lineup of workstation supports. Available as a kit that can be installed like a grommet in a desktop cut-out, flipIT Lift is a smooth, gliding monitor lift that uses no motors or electricity. VESA compliant all-in-ones and flat screen monitors can be mounted in one of eleven height positions for user comfort. The screen angle may be adjusted, then pushed back to vertical for stowing. Two models are available to accommodate monitor weights of 5-15 lbs and 15-24 lbs.
SMARTdesks will also demonstrate their patented and exclusive flipIT Laptop Safes and rotating workstation flip-up products, available as grommet mounting kits. Superior engineering and workmanship with thousands installed in conference rooms and classrooms throughout the world.
SMARTdesks designs and manufactures innovative, custom computer conference tables and computer classroom furniture. Each product is made to order, nuanced for the technology, purpose and interior design choices for the space. SMARTdesks is the patent holder for flipIT® products and is the sole source for flipIT and factory integrated flipIT furniture products. Serving universities, corporations, government and military clients world-wide, SMARTdesks furniture is made in the USA using Certified GREEN manufacturing methods. For more information, contact smartdesks through the web site— http://www.smartdesks.com.