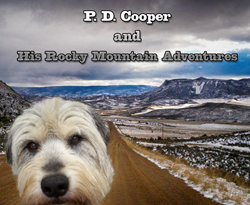 Enjoy!
Poplar Bluff, MO (PRWEB) June 30, 2014
Self-published author, Darlene Suter, has always wanted to write a children's book. She just never found the inspiration until one summer she was in Colorado, watching her English Sheepdog, P.D. Cooper, in action. He made Darlene laugh at his daily routine – running up and down the buttes behind their home, watching the animals that wandered onto "his" domain, how he accepted strange people and even those who were friends. It seemed he had a very protective yet charming approach to handling situations, ordinary and unusual.
P.D. Cooper became the main character and narrator for her story. He was so inspiring, Darlene wrote the book in only two days. Her goal was to make the book entertaining and educational, but couldn't figure out how to do that until P.D. gave her the idea. While watching him, she thought it looked like he knew what everybody was asking him to do. He also did things on his own that were really exceptional.
P.D. Cooper is a loving dog, who, when he wants your attention, will demand it. He has a mind of his own, and is interesting, independent, loyal, and protective of his family. He is truly one of a kind. When he came trotting up to Darlene with a large bone one day, she knew he had gotten it from a neighbor, but it got her thinking. There are oil wells by their house, what else could be out there? Thus, the story of P.D. Cooper and His Rocky Mountain Adventures was born. Pick up your copy to find out what Darlene's creative mind came up with!
Darlene was privileged to share the book with 4th and 5th grade students who wrote their reviews. One student wrote, "I can't wait until it's in a library so I can read it to my little sister – she's gonna be 3 years old and likes stories about animals. She'll love this!" After reading the book, Darlene's friend stated, "This book will entertain anyone – no matter what age."
P.D. Cooper and His Rocky Mountain Adventures is available on Mira Digital Publishing's online storefront: http://www.mirabooksmart.com/PD-Cooper-and-His-Rocky-Mountain-Adventures_p_564.html.
Darlene Suter is retired and lives with her husband, Ron, on a farmland near the community her grandparents established in the early 1900's. She is a former federal bank examiner who traveled across the country in the performance of those duties. Suter is a member of the local stage company and has performed in various productions. In addition, Darlene is a motivational speaker, delivering presentations to local radio stations, businesses, and group meetings. She is a long-standing member of Toastmasters International, to which she attributes her passion for public speaking. In November of 2012, Darlene received the Distinguished Toastmaster Award, the highest achievement that a member can attain in communication and leadership. Watch for her next book, "P.D. Cooper and His Adventures on the Farm," coming soon!